I mentioned the other day that my friday post/Kitsune video this week was going to be a Buddy Belt review!  This post may get a bit long, so bear with me here.  If you're not interested in Buddy Belts you might want to skip this post.  Or maybe just watch the video, where I briefly summarize a lot of the stuff I wrote here.
I first heard about Buddy Belts from a group of other dog owners.  They came highly recommended.  Just about the only negative thing I heard about them was that they are expensive.  A lot more expensive than some other decent types of dog harnesses.  But, according to what I heard, they are suppose to be worth the high price.
For those of you who may have never heard of these harnesses before - they were originally developed in 1997, inspired by a miniature Dachshund named Buddy.  Buddy Belt's are designed to reduce stress on your dogs neck - something that is important especially for smaller breed dogs who can be prone to tracheal collapse.  The harnesses are made out of leather, and come in an array of colors and sizes.
I received Kit's Buddy Belt from FunnyFur.com on June 15th, 2012.  We've been using it for just a few days shy of a month now.  This review will detail my opinions on it during that time.  These harnesses are suppose to be, from what I've heard, really durable.  I may write another review on them once we've been using ours for longer, to let you all know how it held up.
I got Kit a red (of course) regular addition size 6 Buddy Belt.  The website I got it from also offers a stain guard treatment for $3 or $5 depending on the size belt you order, which I decided to get.  I also bought a pair of harness liners for $10 (price varies slightly depending on your dog's harness size) because someone had told me that the leather on the regular addition harness was kind of stiff at first, and Kitsune has sensitive armpits.  Shipping and handling from FunnyFur was $11.95, so my order in total was $97.36.  That is definitely the most money I have ever spent on a dog harness, but I figured that if it lasted long and worked well than it would be worth it.
The first thing I noticed when the harness got here was that the leather was a lot softer than I was expecting it to be.  I don't know if this was because of the stain guard treatment I had gotten, or some other reason.  I was expecting the leather to be a lot stiffer because of the review another dog owner had given me.  I decided to put the liners on anyways, to hopefully make the area of the harness that goes under the dog's armpits a little bit softer for Kit.  The liners are made of soft leather and attach around the harness with a strip of Velcro.  After a month of daily use the liners are still attached well.  I don't know if they make a huge difference because I have not tried the harness alone without the liners, but Kit doesn't seem bothered by the harness rubbing under his arms at all.  The liners are a light colored leather, so ours have gotten dirty a lot faster than the harness itself has.  But I think I should probably be able to take them off and wash them separately if they get dirty enough that I feel like I have to clean them.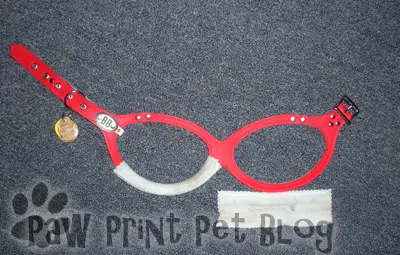 The size 6 I ordered, as far as I can tell, does fit Kit well.  I was glad about that, because searching on the internet I read about some people who had sizing issues with Buddy Belts.  Kit is 19 lbs and about 19 inches around his chest.  The size 6 said it was for dogs 18 - 25 lbs with a chest girth of between 18 and 22 inches.  The belt has 5 holes on it so it can fit slightly different sized dogs.  It fits Kit at a comfortable tightness when on the 2nd or 3rd hole.  I am glad that, if I need too, I can make it a bit looser on him.  I haven't tried putting it on him over clothes, but I think in the winter it should fit fine over a t-shirt or sweater.  The Buddy Belt is a step-in harness.  It's easy to put on - one leg goes inside each hole of the harness.
I thought the harness placement was a little bit weird at first.  The top of the harness, on Kit at least, falls on top of his shoulder blades.  I guess that's good because it's true that the harness does leave his neck completely free.  In these pictures you can see where the harness sits on him.  Notice that he's also wearing a collar in these pictures (just to hold his ID tag) so you can tell the difference between where a collar would be, putting pressure on his neck if a leash was attached, and where his Buddy Belt sits.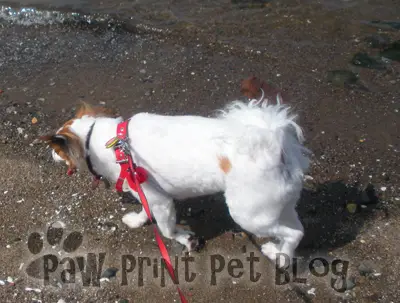 I have another picture of Kit that shows what the front part of the harness looks like.  Kit's not wearing his collar here, but you should be able to see that the harness falls a lot lower than where a collar would be, leaving his neck completely free (Yes Kit was very sleepy and ready for bed when I took this picture!).
Those of you who know anything about Kitsune probably know that he is a very hyper/active dog.  I've always used harnesses on him since I got him.  I can't recall him ever actually fully escaping from a harness, but there have been times when he's been very close to backing out of them.  In the month so far that he's been wearing his Buddy Belt it's seemed very secure.  I don't think there is any way that he could back out of it like he could with other types of harnesses, although he hasn't tried to get out of his Buddy Belt at all so I can't be 100% sure that he couldn't if he tired.  It does seem very secure on him though.  I don't have to worry about the buckle coming undone at the top.  I've used his Buddy Belt while walking him on a regular leash as well as a retractable leash and so far have not had any issues.  I think out of all the types of harness I've tried over the years, I do feel that the Buddy Belt is the most secure/escape proof.  I'll let you all know after using it for longer if that still holds true.
So far just about the only thing I've found that I'd change about this harness, and this is a very minor thing, is the O ring for attaching your dog's leash.  I don't know why they used an O ring instead of a D ring.  I would think that a D ring would lay flatter against the leather of the harness and look a bit nicer.  This is a very minor thing though.  For all I know there could be some reason behind why they use the circular ring instead of a D ring.  Also, and you can see this a bit in the photo above, because I attach Kit's belt on the 2nd or 3rd belt hole, there is a section of the top part of the belt that kind of sticks out a bit.  Once in awhile Kit's leash will get looped around that piece of leather and I'll have to wiggle his leash around to free it.  It's not a big deal though, and I can't think of any way they could avoid this without taking away the ability to make the harness fit a wider range of dogs.  I'd rather deal with the leash getting caught once in awhile then not have the ability to widen the harness, because like I mentioned I do want the harness to be able to fit over clothing during the winter.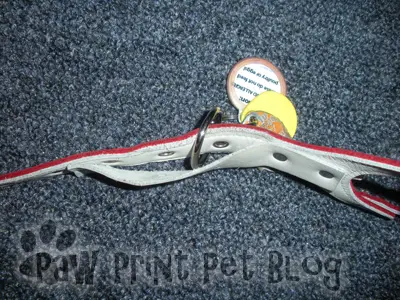 Most importantly, Kit seems very comfortable in this harness.  It took him a few days to really get used to it fully, but now that he's been wearing it for awhile he doesn't seem to mind it at all.  The first couple of times I walked him on it I think he felt a bit weird having the harness be right on top of his shoulders.  I was worried that that was uncomfortable to him.  The harness I used on him before the Buddy Belt attached to his leash lower down on his back, so I think the feeling of it right on his shoulders was strange to him at first.  After a few days though he seemed to get used to it and I'm pretty sure it doesn't bother him at all now.  Kit's fur is clipped short for the summer but as his fur grows out again I haven't noticed any issues with the Buddy Belt damaging his fur.  I'll have to comment on this again once his fur as time to grow long again.  The Buddy Belt must be pretty comfortable now that Kit's used to wearing it, because he has even felt comfortable enough to sleep in it a few times.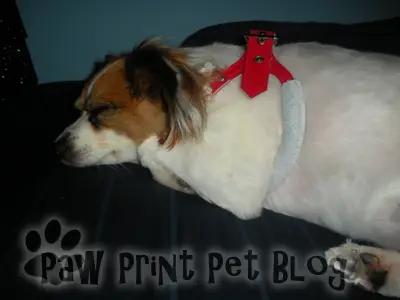 So I would recommend the Buddy Belt.  Kitsune is comfortable in it, so far it seems very secure, and it leaves his neck completely free.  One other thing to note is that Kit also seems to pull less in his Buddy Belt than he did in his previous harness.  He's not a huge puller anyways, since I've trained him to loose leash walk, but there are times once in awhile when he gets overly excited and he will pull.  He doesn't seem to pull as much or as strongly in his Buddy Belt as he did in his last harness.  I'm not sure why, but that might be a plus to someone who has a dog that pulls a lot.
As long as it lasts a good amount of time, I would buy a Buddy Belt again.  The Buddy Belt website recommends you use a leather treatment on the harness every 3 months if you use the belt a lot, so that's something I'm going to look into further.  Hopefully if we take good care of it it will last a long time and I won't have to worry about buying Kit another harness for awhile.  I'll make sure to review the Buddy Belt again in the future to let everyone know how it holds up for us.
Please feel free to post any questions you might have about this harness here and I'll try to answer them to the best of my ability.  Thanks for reading!
*** Neither the makers of Buddy Belt nor FunnyFur.com paid for this review.  All opinions expressed are my own! ***