Kitsune received his August BarkBox  this past Monday.  He was VERY happy when he realized that the box at the door was for him!  I let him open the box himself again.  It's so cute watching him opening his own mail.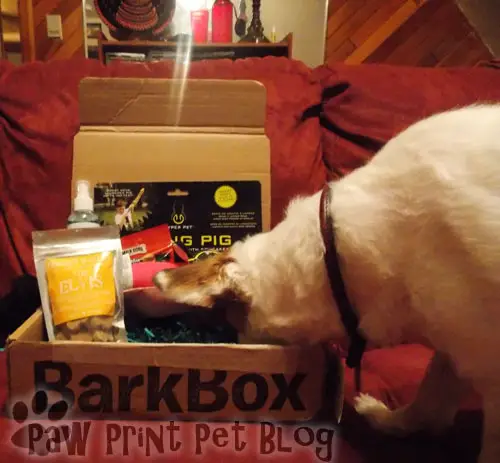 Not that the BarkBox we received last month was bad, but I think Kitsune enjoyed this months a lot more.  He could actually eat more of the treats, and he enjoyed the plush toy they sent this month a lot more than the plastic(?) one he got last month.  This was what he got this month...
Nature's Miracle Freshening Spray
I've used Nature's Miracle products before, but I'm pretty sure this Freshening Spray is relatively new?  The scent is called "baby's breath".  To me it smells like baby powder.  I used the spray on Kitsune last night while I was grooming him.  The only one con I found about it so far was that the spray nozzle sprays the product out in a very direct line rather than in a fine spray.  I don't know if that's normal or if mine was defective, but it made it kind of hard for me to spray his fur because all the liquid would just squirt one directed spot.  I ended up spraying the product into my hand and than using my hand to rub it onto his fur.  This morning I took Kit to the park and while we were walking I was a bit surprised that when the wind blew I could smell the baby powder scent of this product.  I don't know how long lasting it is since we haven't used it much, but it seems to be good for in between bath times when you want to freshen up your pup.  I'll have to report back in the future after we've had a chance to use this more.
Hyper Pet Flying Pig Sling Shot Toy
This is the toy I mentioned above.  I was glad that BarkBox sent us a plush toy this month.  Kitsune much prefers plush toys over the type BarkBox sent last month.  Kitsune's video this week is him playing with this toy, so you can see that he's been enjoying it!  So far, it's holding up well.  It's a fun interactive toy.
This was probably the item in this months BarkBox that I was the happiest about.  I already buy Kit antlers to chew on, but had only tried deer antlers and never moose.  I was surprised to see that Kit seems to like the moose antler more than he likes the deer ones. He's been chewing on this a lot since he got it.  I will definitely purchase this product for him in the future.
Milk Bone Trail Mix
I don't normally give Kitsune these types of treats.  I actually did give them to him, since we had them and they are poultry free.  I brought them to the park to use as training treats.  Kitsune seemed to enjoy them, but I doubt I'd actually buy them for him.  I normally like to give him healthier treats.
This is the first thing Kit wanted to check out once he got into his BarkBox.  They are peanut butter, banana, and bacon flavored treats.  Apparently named after Elvis' favorite snack, peanut butter, banana, and bacon sandwiches.  They have turkey bacon in them, and usually I try not to give Kit any poultry at all due to his chicken allergy, but I did let him try one of these and luckily he didn't have any problems with them.  He can eat turkey, although I usually try to stay away from poultry with him just for my peace of mind.  He really likes these.  I'd consider buying from this bakery but I'd look into their other types of treats to see if they have anything that's completely poultry free.
And there you have it - our August BarkBox review!  If you're interested in trying out BarkBox for yourself (uh, more for your dog I guess!) you can click this link to get $5 off your subscription! This is only our second month with BarkBox, but so far I'd highly recommend them!  Seeing what types of goodies they send every month is almost as fun for me as it is for Kitsune!  The only con I can think of so far, is that pretty soon I think Kitsune is going to need a bigger toy box to hold everything!
I hope everyone has a fun weekend!  I'm going to leave you all with this week's Kitsune video!  Like I mentioned above, this is a video of him playing with his new flying pig toy from BarkBox!  Sorry the video isn't that great this week.  I'll try to post a better one next week.