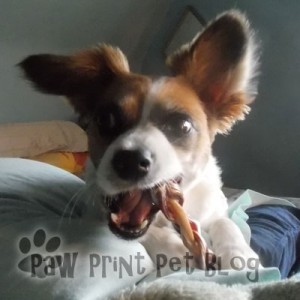 On Monday, September 17th, Kitsune received his September BarkBox.  It ended up being really good timing for us this month.  I had a lot of extra work to get done in the beginning of the week so was happy that Kitsune got a few new chews & toys to keep him busy for a bit while I worked.
We paid for a 3 month subscription of BarkBox and this months box was our last one.  However, we did earn one free box thanks to someone who used our referral code (thanks, whoever you are!) so Kitsune will be getting a free box in October.  So far, our experience with BarkBox has been good and we are planning on renewing our subscription again after next month.
I think last months BarkBox is still our favorite so far.  Kitsune did enjoy this months goodies but he really loves the plush toy that we got last month.  He's still playing with his flying pig on an almost daily bases a month after receiving it.  Plus he looves his antler chew, I think I'm going to have to order him another one soon.
Sorry for my lack of pictures in this months review.  I'm still getting used to our new camera and although I did take a bunch of pictures, most of them didn't turn out very well.  I did get a cute video though that I'll put at the end of this post.  Kitsune gets so excited when his BarkBoxes get here now.  It's really cute!  Anyways, without further ado, here's our review of all the items in September's BarkBox!
The Crinkit seems like a really cool idea, especially for dogs who like to play with plastic bottles.  The idea behind this toy is that you put a plastic bottle inside it - so your dog can have the satisfaction of playing with a plastic bottle without actually being able to shred the bottle.  However, I had a really hard time getting a bottle into this thing!  The directions say to use soapy water.  I tried it, but it didn't seem to make getting the bottle inside any easier.  And I don't really like the idea of Kitsune ingesting soap while playing with this thing.
I was eventually able to cram a water bottle into the toy.  However, we actually don't buy water bottles at our house.  I had to ask my fiance to bring a plastic water bottle home from his work just so we could try this toy out.  So replacing the bottles in the toy often might not be all that practical for us.
However I have to say that Kitsune seems to be enjoying this toy a lot more than I thought he would!  I'm not sure if he cares so much that there is a bottle inside, but he's been having fun rolling it around on the floor.  I tried putting some treats inside the toy and he really loved that.  It didn't take him long to get the treats out, but he had fun in the process.
So all in all it's not a bad toy, because Kitsune has actually been playing with it.  However I don't think we'll be replacing the plastic bottle inside the toy once the one that's in there now is destroyed.
If you're interested in getting your dog a Crinkit toy of his/her own, they retail on Amazon.com for $19.95.
The second item in this month's BarkBox was a sample of W.A.G. wash & go dog bath wipes.  The sample BarkBox sent only contained one wipe.  I've actually been looking for a product like this to use on Kitsune for in between bath time, but I really wish I had more than one wipe to try before deciding if this is something I'd want to purchase in the future or not.  The wipe I got smelled ok.  Not amazing, but not bad either.
W.a.g. bath wipes retail on Amazon for $15.99 for a package of 72 wipes.
The next item was a Barkworthies 6'' braided bully stick.  Kitsune loves bully sticks, however I don't usually buy them for him because of the price and how fast he eats them.  He finished his 6'' bully stick in probably around 20 minutes.  Despite the fact that I don't buy bully sticks that often myself, I was happy to see one included in this month's BarkBox.  Kitsune was even happier than I was.
Barkworthies 6'' braided bully sticks retail on Amazon for $7.36 each.
Whole Life Pet Sweet Potato Treats
Whole Life Pet sells a verity different types of freeze dried dog treats.  We got a 1.5 oz bag of freeze dried organic sweet potato treats.  I couldn't find this product on Amazon, but on the Whole Life website (link above) they retail for $3.99.
Kitsune likes these.  I was happy that BarkBox sent a treat that Kit could actually eat, since they didn't contain any poultry.  We got a very small sample of freeze dried chicken treats as well, but unfortunately Kitsune can't try them.
I'm not sure if I'd buy the freeze dried sweet potato treats, since I make Kitsune my own sweet potato treats, but Whole Life as a bunch of different types of treats that I'm sure Kitsune would love.  I would recommend these treats, and would probably buy them if it wasn't for the fact that I make most of Kitsune's treats myself.
The last item for Kitsune was a Zukes apple crisp flavored Z-bone.  I don't usually buy Kitsune dental type chews, since I brush his teeth and give him raw meaty bones to keep his teeth clean.  He did enjoy this chew though.  It didn't last him very long, maybe 15 - 20 minutes, but that's normal for Kitsune.
Z-bones on Amazon retail for about $12 for a pack of 8.  Kitsune liked his.  He didn't go crazy for it like he did for the bully stick, but he did seem to enjoy it.
The last item in our BarkBox this month was a coupon for $10 off at Wag.com.  I've never shopped there before, but I'm going to check them out and hopefully buy something so we can use our coupon.
-------------
We paid $66 for a 3 month subscription of BarkBox, which works out to $22 a month.  You can save a bit more if you order a 6 month subscription.  Not including the price of the bath wipe, coupon, chicken treats, ans Z-bone, I calculated that our BarkBox this month was valued at at least $31.  I didn't figure in the price of the small sample of chicken treats, Z-bone, and bath wipe since they were all samples and are normally, from what I can tell, sold in larger amounts.  I didn't want to calculate the price of one Z-bone or bath wipe, since they are usually not sold singly anyways.  But I'm glad BarkBox included them, it's always fun to try out new product samples.
If you're interested in subscribing to BarkBox, you can click this link to get $5 your subscription!  If you use our reference link, not only will you get $5 off your order, but Kitsune will receive a free month of BarkBox (which I'm sure he will very much appreciate - thank you!).
Here's a video of Kitsune opening this months BarkBox and trying out a few of his new goodies.