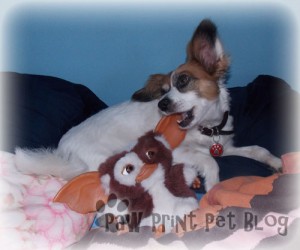 What do you think, can you see a resemblance?  Over the years, I've had quite a few people tell me that my Papillon Kitsune looks like Gizmo from the movie Gremlins.  As long as they mean the pre- eating after midnight version of a Gremlin (which were apparently called "Mogwai" and only called "Gremlins" after they transformed into evil reptilian looking beasts).  I actually think the Gremlins, while still in their fuzzy forms, are pretty cute.  Hence why I have a stuffed animal version of Gizmo. 
It has to be the ears, right?  Kitsune does have some pretty impressively sized ears.  I guess he's kind of the same colors as Gizmo too.  The more I think about it, the more things I can think of that Kitsune and a Gremlin have in common.  Kitsune just so happens to have a beastly side too.  Only he doesn't transform when he eats after midnight- his evil side is much less predictable.  Luckily for him, although he's great at getting himself into trouble, there's no transforming into an evil looking reptile creature involved in his trouble making.  I say luckily for him, because look at that face.  Kitsune's disgustingly adorable.  It's a defense mechanism - there's no getting mad at that adorable face.  It's just not possible, no matter how much trouble he makes.  Believe me, I know.
After the upteenth time of someone telling me that Kitsune looks like Gizmo at the park this morning, I decided to introduce him to my plush Gizmo to compare.  Kitsune was mostly interested in trying to gnaw poor Gizmo's feet, hands, ears, and eyes off, so I kept the introduction short.  I guess I can see the resemblance.  What do you think, should I keep Kitsune away from water and snacks after midnight?  Maybe he's half Papillon and half Gremlin?  I think I'm going to start telling people that when they ask his breed!  The Gremlin side of him accounts for why he doesn't look like a typical Papillon, and his trouble making.  His Papillon DNA luckily cancels out some of the more negative Gremlin traits, such as not being able to be around water or sunlight, and all that transforming into an ugly monster business.