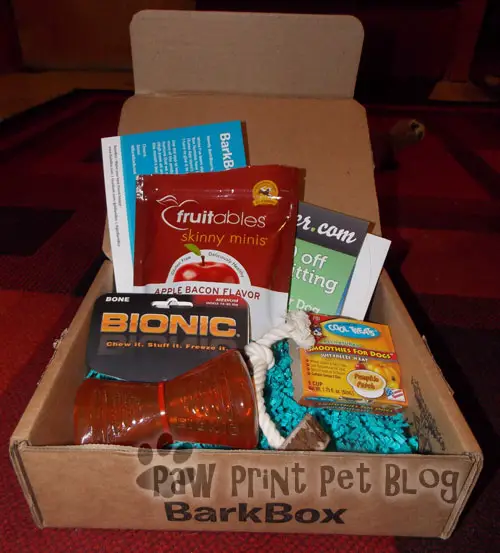 It's Kitsune's favorite time of the month again.  His November BarkBox arrived!  For anyone who's new to my blog, or still doesn't know, BarkBox is a monthly subscription of goodies for your dog!  When you join, you can choose to sign up for 1 month, 3, or 6.  Then once a month, for however many months you signed up for, the BarkBox team sends your dog a box full of high quality surprise toys and treats!
We signed Kitsune up for BarkBox for the first time back in July of this year, and have been receiving it every month since then.  Kitsune gets sooo excited when I give him his box, it's really cute!
If you are interested in signing your own dog up - you can use this link to get $5 off your first subscription!  Plus, when you use our affiliate link, Kitsune gets a free month of BarkBox!  So thank you, from Kitsune, to anyone who signs up using our link. 🙂
Kitsune got 2 toys, 2 treats, and a few coupons/gift certificates in this month's box.  For anyone who's interested, here's the run down of what we got!
Bionic Bone: The Bionic bone is suppose to be, well, bionic.  Aka, chew proof, I think?  I can't really test it's durability, because although Kitsune loves to chew, for whatever reason he's never liked chewing on rubber/plastic type chew toys.  The Bionic Bone is hollow, so you can put treats inside much like you would with a Kong.  I tried putting peanut butter in the Bionic Bone, but Kitsune got it all out in no time - much quicker than he does with his Kong.  I think, for the most part, we'll probably stick with Kit's Kong.  Although I'm sure I'll give him treats in this once in awhile just to change things up a bit.
Acadia Antlers Rope Antler Chew: BarkBox sent a "moose taster" from Acadia Antlers in one of our past BarkBoxes, and Kitsune really loved it.  I was glad to see that they included something from Acadia again this month, however this months toy wasn't as big of a hit as the moose taster was.  The rope chew is a circular piece of moose antler with a hole drilled in the middle, with a piece of rope going through it.  It's a cool toy idea, but didn't work out so well with Kitsune.  First of all, while trying to chew on the antler he actually chewed on and swallowed some of the attached rope.  The end result, pun intended, of him eating pieces of rope was not pretty!  I'm just glad he passed the pieces he ate and didn't get impacted or anything.  I tried removing the rope and just giving him the antler, but the antler piece isn't very big and I guess because of it's shape and size it's very hard for Kitsune to hold onto and chew.  I wouldn't buy this toy for Kitsune, however that doesn't mean that we don't still love Acadia Antlers!  In fact, I just placed an order from them the other day to get some chews to put in Kit's stocking.
Fruitables: We were glad Kitsune got a treat he could try this month!  He got Apple Bacon flavored Fruitables and loves them.  They are made of 100% natural organic ingredients.  I don't buy a lot of dog treats, since I make most of Kit's treats myself, but I would buy these for him again.
Mr. Barksmiths Pumpkin smoothie: This was a smoothie treat that you put in the freezer before feeding to your dog.  We got a pumpkin flavored smoothie just in time to give Kit for Thanksgiving.  Two treats in one month that we could actually give to Kit!  He seemed to really enjoy his pumpkin smoothie, and it didn't bother his stomach at all which is always a huge plus.  Mr. Barksmith's treats are made from human food-grade ingredients in the US.
Holiday Offers: Other than the 2 toys and 2 treats we reviewed above, BarkBox also sent us a $10 gift card to chewy.com, $10 off the price of a dog sitter from rover.com, and a free one month subscription to DogTV.  We didn't try out DogTV yet but probably will.  I doupt we'll use the $10 off rover.com coupon because I've never left Kitsune with a dog sitter before, and probably won't anytime soon.  And I tried to use our Chewy.com gift card to order Kitsune a few extra Christmas presents but for some reason I couldn't get our promo code to work.  I'm sure it's some kind of simple mistake and not BarkBox's fault.
There you have it, our November BarkBox review!  Now poor Kitsune has to wait another whole month before his next BarkBox.  He has such a hard life 😉