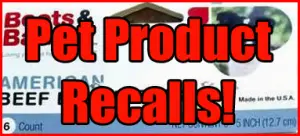 Last week (Feb.19th) Kasel Associated Industries issued a voluntary recall of around 50 pet products due to possible Salmonella contamination.  So far, no reports of actual illness have been received.  However, Salmonella can pose a risk to both animals and humans who handle or eat contaminated products. 
The most common symptoms of Salmonella poisoning include vomiting, diarrhea (sometimes bloody), abdominal pain, and fever,  Salmonella infections can sometimes cause more serious symptoms including eye irritation, urinary tract symptoms, arthritis, muscle pain, endocarditis, and arterial infections.  Pet owners with any of these symptoms who may have come into contact with any of the recalled products should seek medical attention.  Salmonella poisoning displays similarly in pets, with the most common symptoms being diarrhea (sometimes bloody), vomiting, fever, decreased appetite, and abdominal pain.  Infected pets can carry Salmonella and possibly pass it on to other animals and humans.  If your pet displays any of these symptoms, especially after consuming recalled products, consult your veterinarian.
The products effected by this recall were all manufactured in Kesel's Denver, Colorado facility between April 20th, 2012 and September 19th, 2012.  The products were shipped nation wide.  Items impacted by the recall include Boots & Barkley, BIXBI, Nature's Deli, Colorado Naturals, Petco, and Best Bully Stick brands.
For a full list of recalled products, please visit this site.  Consumers who purchased any of the recalled items should return them for a full refund.  For anyone with additional questions or concerns, Kasel Associated Industries can be contacted at 800-218-4417, Monday thru Friday from 7am to 5pm (MDT).