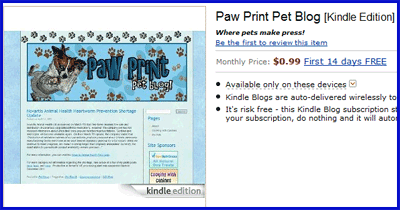 Happy Friday!
I'm happy to announce that Amazon Kindle owners can now subscribe to Paw Print Pet Blog through the Amazon Kindle store.  Get the latest pet news, pet care tips, product reviews, and follow the adventures of Kitsune the Papillon all on your Kindle!  Click here for more information on how to start your 14 day free trial.  After 14 days, your subscription will cost only $0.99 per month, and each new Paw Print blog post will be delivered automatically to your Kindle.
While you're on Amazon, be sure to check out my book Cooking with Canines!  It's currently available through Amazon Kindle, and is free to borrow for Amazon Prime members.  The print edition of Cooking with Canines should be available sometime within the next week or two.  I'm waiting for the proof to arrive so I can look over the book before releasing it for sale!
Sorry to all Kitsune's fans, I know I've been slacking on posting Kit videos lately.  I meant to post this video around Easter time, but didn't have time to work on editing the video.  I think it came out cute, so I'll share it now even though Easter was last weekend.  Thanks for looking!  I hope everyone has a fun weekend.