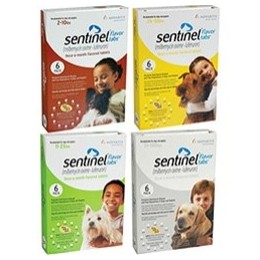 Sorry to anyone who is getting sick of posts about this, but I get quite a few blog views from pet guardians looking for updated information about the Novartis Animal Health Sentinel/Interceptor shortage.  Recently it was brought to my attention that the Novartis FAQ/Shortage update page that I had posted in previous updates is no longer working.
This may be, at least in part, due to the fact that recently Novartis informed US veterinarians that Sentinel Flavor Tabs (which protect against heartworms, fleas, whipworms, hookworms, and roundworms) are back on the market.  As of April 4th, 2013, veterinarians should once again be able to carry all sizes of Sentinel Flavor Tabs.  In addition, Novartis has reduced the cost of Sentinel and claims that the new lower prices are here to stay.
This is great news for owners who have been waiting for the return of Sentinel.  However, there is some not so happy news for fans of Interceptor (which protects against heartworms, roundworms, hookworms, and whipworms, but not against fleas).  Novartis has discontinued production of Interceptor in the US.
Novartis, so far, hasn't posted an official statement on their website.  However, the following is an excerpt from a letter that was sent to US veterinarians earlier this month.
"...Novartis Animal Health, US, Inc. is happy to announce that Sentinel Flavor Tabs are back and at a price that is sure to please everyone.
Effective today, all sizes of Sentinel Flavor Tabs are priced at nearly half of 2011 prices, and these new low prices are here to stay. Now, even more pet owners can afford to provide year-round heartworm, intestinal parasite and flea protection to their dogs.
We're creating a new standard of care by offering broader spectrum protection than similarly priced heartworm medications and significant savings over comparable spectrum products. Therefore, we have discontinued production of Interceptor® (milbemycin oxime) Flavor Tabs® for the U.S. market.
Thank you for your patience and commitment to Novartis Animal Health, US, Inc. and the Sentinel Flavor Tabs brand. We apologize for the disruption we have caused you, your practice and your clients. We hope to earn back your trust. To that end, we have built significant inventories to support expected demand..."
Anyone interested in switching their pet back to Sentinel should contact their pets' veterinarian.  Former fans of Interceptor who don't want to give their dogs Sentinel, and haven't already found an alternative heartworm preventative, should discus available options with their veterinarian.