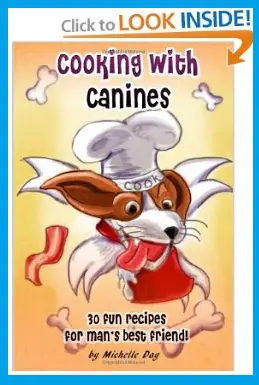 Happy Friday! 🙂
I'm happy to finally be able to announce that Cooking with Canines, my dog treat recipe book, is now available in paperback on Amazon!  You can purchase the paperback version from the same page as the Kindle version by selecting "Paperback" in the formats section on Amazon.  Here is a direct link to the paperback version.
Thank you to everyone who downloaded the book on Kindle so far!  Cooking with Canines will continue to be available through Kindle.  But I know, for some people, that having a cook book in hand is much more convenient than having recipes only on your Kindle.
The recipes in the book are simple and easy to make, but, from what I hear, dogs love them!  I make Kitsune batches of treats from recipes in the book often, and so haven't had to buy him any treats from the store for awhile now.  It really does save us money, and Kit goes nuts for his homemade treats!  I hope other dogs are enjoying the recipes as much as Kit does. 🙂
See, Kitsune loves the treats so much that he'll even eat them in awkward circumstances (see the video below).  The things we do to our poor pups in the name of entertainment.  Don't worry, no Kitsune's were harmed in the making of the video (of course!).  Anytime Kit's getting food shoved in his face he's a happy pup!
I hope everyone has a fun weekend!  If anyone has any questions/comments/suggestions about the book, please feel free to contact me.  My contact information is on the "About" page here, or you can just comment on any of my blog posts!