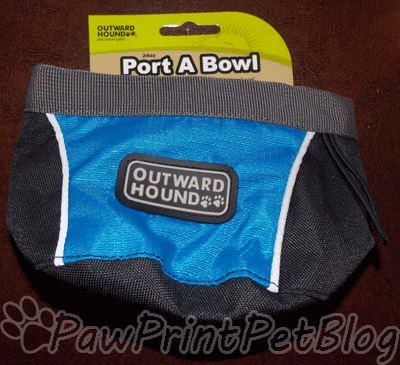 Kitsune and I love to spend time at our local park.  Sometimes staying for a few hours at a time, especially in the warm/hot weather, means that I have to have a way to provide Kitsune with fresh, clean water while we're there.  For the past couple of years, I've been using plastic bags as makeshift water bowls for Kit.  But not anymore!
We recently got to try out a Kyjen Outward Hound Port A Bowl.  These soft, portable water or food bowls come in a few different colors and two sizes, and cost under $6 on Amazon.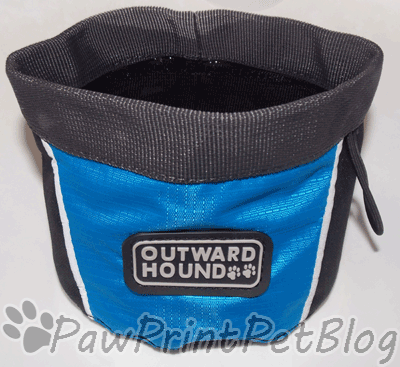 We got the blue, 24 oz bowl.  It may not be the top of the line as far as collapsible bowls go, but it's so much nicer than using a plastic bag to give Kit water.  The bowl is made of thick fabric, so it folds down and can easily be carried inside a pocket or purse without taking up too much space.
When we got our bowl, I filled it with water and let it sit for an hour.  In that amount of time, we didn't have any leaks at all.  The bowl isn't really designed for leaving water in for a long period of time.  It's more for offering your pup a quick drink on the go.  One tip - I discovered that the rim around the top of the bowl is not water proof, so to prevent leaks I always make sure to keep the water level down below the rim.
The bowl is kind of deep, with a relatively narrow opening.  Kit didn't have any issues drinking from it, but he's only 20 lbs.  A larger dog might have trouble fitting his/her muzzle down into the bowl.  Another thing worth mentioning is that the Port A Bowl is made in China.  I know some pet owners try to stay away from pet products from China.
The Outward Hound Port A Bowl is cute, and very convenient.  It's great for taking to the park, hiking, camping, on car rides, or any other time when you don't want to (or can't) leave down a regular food/water bowl.
I took a quick video of Kitsune at the park the other day.  The first half is of Kitsune watching a duck, but after that you can see him drinking out of his new Port A Bowl. 🙂