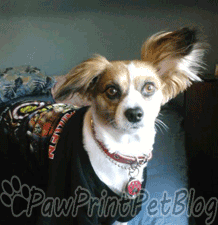 Happy Friday!
Its been slightly over a week since I last made a new blog post.  So sorry about that!  I don't usually like to go so long between new posts, especially since I know some of you stop by on a regular bases (thank you!).
Last week was kind of hectic.  My fiance Chris and I went to three different concerts all on separate days.  When you factor in all the getting ready and traveling and waiting around, they each ended up pretty much turning into all day affairs.  Then, of course, we had to make up for leaving Kitsune home alone on the concert days by taking him out for extra park trips!  Other than doing some stuff to help promote Cooking with Canines, I didn't get much work done last week!  
I had so many ideas about what I wanted to post about today, and then of course my camera refused to cooperate.  I need to get a new camera battery.  Until then, all I have to work with is my cell phone, and unfortunately it just doesn't take very high quality videos.
But I can't leave you all without a Kitsune video for the second week in a row!  Instead I'm going to repost an older video.  So inspired by our latest concert week, and this funny song....
written by the metal band Psychostick, here is a Kitsune video for the week!
That was one of the first videos I ever edited!  It originally had music which made it a bit more entertaining, but YouTube removed it.  Oh well.  By the way, the "sock ninja" still likes to hide stolen socks in his toy box!
I hope that everyone has a great weekend.  Happy Mother's Day to all the moms out there!