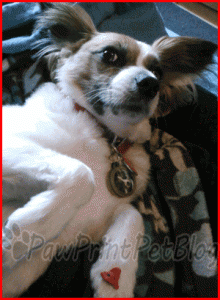 Another Monday!  I hope everyone had a great weekend, and a happy Mother's Day to all the moms out there!
For Mother's Day, Kitsune 'gave' me this adorable clay heart.  I must have dropped this small piece of (non-toxic) clay without noticing, and Kitsune found it.  I saw him walking around with something red sticking out of his mouth, so I called him over and told him to "drop it" and this is what "it" was.  I thought it was cute that it was shaped like a little heart with teeth marks in it, so I had to bake and keep it.
What's in a name?
I assume because of Mother's Day, I've been reading a lot of pet articles about whether or not it's acceptable for pet owners to call themselves "pet parents", or to refer to themselves as their pet's "mom" or "dad".  What do you think?  Do you refer to yourself as your pet's parent, owner, or something else?
There's no doubt about it, a large majority of pet owners consider their pets to be part of the family.  A study conducted in 2011 reveled that 81% of Americans consider their dogs to be family members.  And it's not only American families that have gone to the dogs - According to a study done this year by the Pet Food Institute of Japan, "[m]any pet owners now do not hesitate to state that their pet is an integral member of the family, not simply a "child" figure to be petted and protected. Some will use the word "son" or "daughter" instead of child. Some will simply say a "member of the family"."
In the same study linked to above, 58% of American dog owners reported that they refer to themselves as their pet's parents.  35% said that they refer to their dog as their son or daughter, and 10% of surveyed dog owners said that they celebrate Mother's and Father's Day with their dog(s).  In fact, the term "pet parent" is becoming so main stream that even some commercials for pet products are starting to use it.
However, apparently not everyone feels that parenthood extends to the furry members of our family.  The biggest argument against referring to the furriest (Uh..hopefully) members of our family as children is that it is apparently demeaning to some people.  Even some pet owners seem to feel that referring to pet owners as parents is a bit cheesy, and/or isn't respectful to parents who care for actual human children.
So those of us who aren't fully satisfied with being considered pet owners are left with a dilemma.  At the risk of sounding a bit silly, or possibly stepping on some toes, do we refer to ourselves as pet parents?  Although pets are technically considered property, "owner" doesn't seem to do much to convey the bond that can exist between people and their pets.  After all, you can own a car, own a television, but caring for another living creature is a whole different ball game.
Does it even matter what we choose to call ourselves anyways?  Sure, we may sometimes sound a bit corny, and occasionally some people may take issue with what we choose to call ourselves, but in the end, if our pets are happy and healthy, and we're not actually hurting anyone else, isn't that all that really matters?