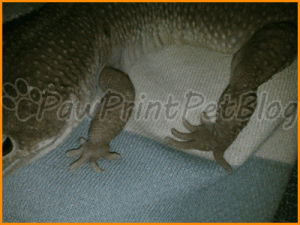 I've noticed that the key words "gecko paw prints" and similar searches are bringing a lot of people to this site.  I guess it has to do with the title of my blog, plus the fact that I've written about my Leopard Gecko, Haku, a few times here.
So I decided to humor all of you who are searching for gecko paw prints!  Yesterday I dipped poor Haku's feet in nontoxic paint and let him roam around on a piece of paper, and these are the results...
The first image is the best print I got of his front paw, the second is his back. Sorry the sizes are a bit off, I should have payed closer attention to that when I was resizing them.
So there you have it, Leopard Gecko paw prints! I was going to use Photoshop to try to make them look more like solid colored prints, but I think they look nicer how they are. You can even see some of the marks from his individual scales!
And since it's Friday, I do have a new Kitsune video! In keeping with the theme today, it's of Kitsune and Haku hanging out. Don't worry, no animals were harmed in the making of this video (of course). Kitsune has been around small animals like Haku since he was a puppy, so he knows he has to be gentle around them. Plus I was closely supervising.
Thanks for reading! I hope everyone has a fun weekend!