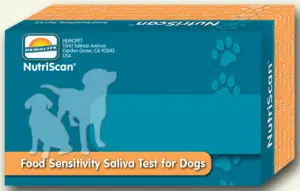 Does your dog suffer from food allergies or sensitivities?  My Papillon, Kitsune, is very allergic to chicken.  Unfortunately, Kitsune was our first dog, and it took us some time to realize that he was suffering from food allergies - and then even longer still to figure out exactly what he was allergic too!
Once you figure out that your pet is suffering from food sensitivities, it's important to figure out what, exactly, is bothering them.  Veterinarians can preform allergy testing on dogs, usually either in the form of a blood test or skin patch/prick tests.  However, these procedures are often times expensive, and they are not always 100% accurate.  Elimination diets can be a way for owners to try to determine their pet's allergies/sensitivities at home.  Unfortunately, discovering what your pet is allergic too this way can take time, and the number of possible variables can make the process confusing for pet owners.
Well known veterinarian, Dr. Jean Dodds has developed a new kind of food sensitivity test that dog owners can use without the assistance of their veterinarian (if desired), for less then the price of your average blood or skin patch allergy tests.  NutriScan tests your dog for food intolerances and sensitivities via a saliva sample.  Collecting the saliva is painless to your pet, and results are generally available within two weeks.  (Food intolerances/sensitivities are not exactly the same thing as food allergies, but food sensitivities/intolerances are actually a lot more common than true food allergies).
NutriScan works by testing dog's saliva for antibody levels.  Currently, NutriScan offers two test panels.  The first tests for sensitives to beef, corn, wheat, soy, cow's milk, lamb, venison, chicken, turkey, white fish, and pork.  The second panel tests for chicken eggs, barley, millet, oatmeal, salmon, rabbit, rice, potato, peanut/peanut butter, quinoa, and sweet potato.  You can order a single panel of your choice, or both.
I'm not sure if NutriScan would have helped Kitsune or not (he's one of the rarer dogs who actually has a food allergy rather than a sensitivity), but I think it could be a great tool for owners who are dealing with dogs who have unknown tummy troubles.