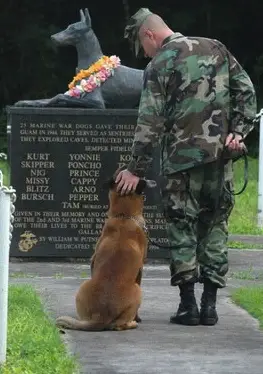 Happy Memorial Day!
I hope everyone is enjoying the day!  The pack here is having a quiet day inside, for the most part.  I can't completely take the day off, but I'm going to spend some time catching up on house work and hopefully spending some time on some art projects that I've been looking forward to starting.  I took Kitsune for a nice long walk this morning, and later we are having a small cookout.
Time off and cookouts are always fun, but of course it's important to remember the reason for this holiday - the men and women who died defending our country.  Did you know that animals help serve our country as well?  If you're looking for a way to give back this Memorial Day, and also love animals, there are some great ways you can help to improve the lives of Working Military Dogs.
The US Military K-9 Fund, Inc. helps our pawed heroes by helping retired military dogs stationed overseas reach their new adoptive families in the US.  They also help by providing care packages to assist working dogs and their handlers.  You can help by donating funds, which will be put towards creating doggy 'deployment boxes' full of items that help Military Working Dogs stay healthy.  Each box includes a pair of Doggles to protect the dog's eyes, a cooling vest and mat, grooming supplies, boots and liners, toys, and treats.  You can also help by donating any of the following items:
Milkbones
Jerky treats
Grooming brushes made for large dogs
Nail clippers designed for large dogs
Eye cleaners
Ear cleaners
Antiseptic sprays
Pet wipes
Paw salve
Dog shampoo
Finger toothbrushes and dog toothpaste
Nylabone toys
Large Kongs
Tennis balls (gently used is ok)
No squeaky toys please (guess Kitsune won't be joining the military, he loves his squeakers!). You can also donate items (yo-yos, decks of cards, heat-tolerant candies or snacks, chapstick, lotion, shampoo, conditioner, toothbrushes, toothpaste, antibiotic salve, black or brown crew socks) for K-9 handlers.  Please visit the US Military K-9 Fund, Inc. website for more information!
Acadia Antlers is also a great company that is helping to improve the lives of Military Working Dogs!  I first discovered Acadia Antlers back in August 2012, when Kitsune received a "moose taster" in his BarkBox.  Kitsune loves these chews, and has gone through quite a few of them since his first one in August.  Now you can donate awesome moose antler chews to military dogs!  Just click the "Antler Chews for Sale" tap on the Acadia Antlers website and scroll down to the large dog section.  You can purchase and donate a large sized antler chew for a discounted price of $20.  Acadia Antlers will handle the shipping - the donated chews will be sent to working dogs who are currently deployed in Afghanistan and Kuwait.