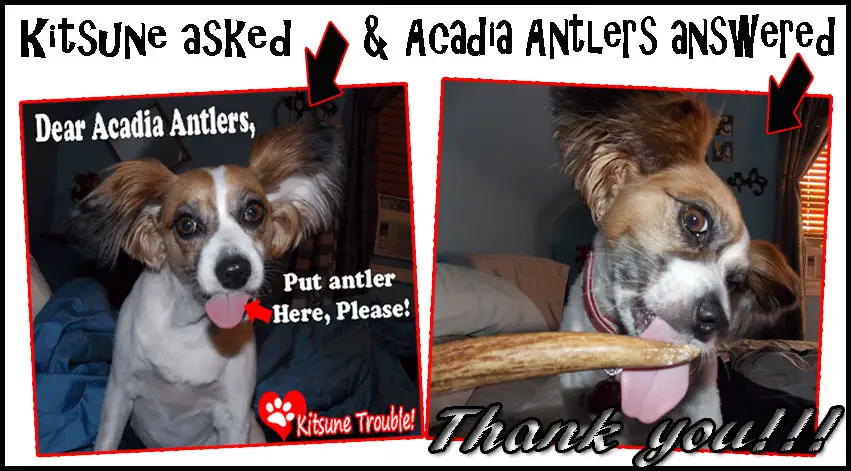 Acadia Antlers, a company that sells moose antler dog chews, has been hosting weekly photo contests on their Facebook page.  All you have to do to enter is "like" them on Facebook, and then share a photo of your pet on their wall.  Acadia Antler staff members select 3 lucky winners each week, and send them free antlers!  As you may have already guessed from the photo above, Kitsune was selected as one of the weekly winners back around the end of May.  He received his free antler chews recently and we figured this would be a great opportunity to write an Acadia Antlers review!
This wasn't Kitsune's first time trying Acadia Antlers.  He received smaller antler chews in his August and November 2012 BarkBoxes.  Kitsune loved his "moose taster" from his August box so much that he chewed on it almost constantly for about a week before I had to buy him a new antler to replace it with.  In fact, he loved it so much that we included Acadia Antlers on our list of Kitsune's top 10 dog gifts of 2012!  But the post about Acadia Antlers that probably stands out the most I made just last month, when I posted about how you can help Military Working Dogs by donating antler chews.
Antlers as chews for dogs seems to be a growing trend.  The antlers are long lasting, don't smell bad, and are healthier than many alternatives.  Because animals such as deer and moose naturally shed their antlers, they are a cruelty free product.  Acadia Antlers used moose sheds collected in Maine, so you don't have to worry about giving your pet imported chews and the issues that can arise from that.  Chewing antlers can help keep your pets' teeth clean, and can provide long lasting activity to dogs who love chewing!
Keep in mind that not all dogs seem to enjoy chewing antlers.  If you're not sure whether or not your dog will enjoy it, Acadia Antlers sells "moose tasters" for just $6 each.  I've noticed that Kitsune seems to prefer certain antler chews over others, even though they are all moose antlers and all from the same company.  Sometimes he'll find one that he really seems to like, and he'll want to chew on it as much as possible.  Other times he'll seem less interested, and will only chew when he has nothing else to do.  I'm not sure what makes some of them better than others, since they all look pretty much the same to me!  But it makes sense, being a natural product, that there would be some variation that makes some of them extra tasty to dogs.
Oh, and for those of you who have other types of pets, Acadia Antlers sells antler chews for small pets as well.  Did you know that animals in the wild will sometimes gnaw on antler sheds for minerals (such as calcium)?  Antlers can make great, visually appealing perches for pet birds as well.
Kitsune gives Acadia Antlers 2 paws up!  If you haven't already, be sure to check them out!  Like them on Facebook and post a picture of your furry friend, who knows, maybe your pup can win a free antler too!
This video is of Kitsune trying to open his prize from Acadia Antlers!  He was very excited when it got here!  Sorry the video quality isn't that great.