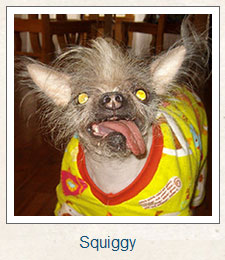 Happy Friday!
Later this afternoon The Sonoma-Marin Fairgrounds (Petaluma, CA) will be hosting the 25th annual World's Ugliest Dog Contest!  If you want to get in on the action a bit early, you can check out the online voting gallery and cast your vote for the 2013 ugliest dog!  The ultimate winner will be selected by a panel of judges, but it's interesting to see who the general public deems the ugliest!  So far Squiggy (pictured) is winning with 1368 votes.
The winner (dog and owner) will receive a trophy, $1,500, a photo session with Photographer Kira Stackhouse of Nuena Photography,  and special VIP treatment at The Sheraton Sonoma County-Petaluma.  Oh, and who could forget, the honor(?) of officially being 2013's world's ugliest dog! 
Hey, the dogs don't realize that they are ugly!  They just know that they're getting to spend extra time out with their owners, and their adoring fans!  Ugly or not on the outside, all dogs are beautiful on the inside!
From ugly to adorable, here is your weekly dose of Kitsune!  I was making sure this dragon toy worked so that I could list it on eBay.  I think Kitsune is glad I'm trying to get rid of it - he doesn't really seem like a fan...
One last thing - the 2013 Petties, Dogtime's Pet Blog Awards, start soon.  Nominations end on June 28th.  If you enjoy reading Paw Print and have the time, Kitsune and I would really appreciate if you could stop by and nominate us!  Thanks!