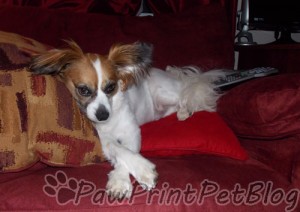 Happy Friday!
I'm afraid this is going to be a pretty boring post.  While I was taking the trash out Tuesday night Kitsune found some chicken that someone must have left out near the house.  Unfortunately I wasn't paying close enough attention, and by the time I noticed what Kitsune was doing he had already eaten some of the chicken - bones and all.  
I've probably mentioned this before but he's actually very allergic to chicken.  I have meds for him that luckily kept the swelling/hives under control but they unfortunately didn't do much to help his stomach.
That's why I didn't post any photos Wednesday, and I don't have any new videos for today either.  Luckily Kitsune is feeling much better now!  Lesson learned, I'll make sure to keep a much closer eye on him around the trash barrels from now on.
I wanted to mention real quick that today is the last day to nominate blogs for the 2013 Petties!  If you enjoy reading Paw Print, or have some other pet related blogs in mind, make sure to get your nominations in today.  While you're there, consider nominating a shelter or rescue that you'd like to see win the $10,000 Petties Grant this year!