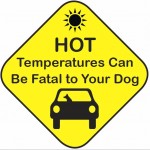 I understand why some owners would want to take their dogs everywhere with them.  I love taking Kitsune places with me whenever I can.  However, in the summer, please please please don't leave your dog (or any other pet!) out in your car, even if it is "just for a minute".  Even on a relatively cool day, temperatures inside a car can rise enough to cause heat stress, stroke, and even death.
There have been numerous studies that show just how quickly, even on a cooler day, temperatures inside a car can rise.  Even when the weather outside is a comfortable 75*F, temperatures inside parked cars can rise to 100*F and above in a matter of just around 10 minutes.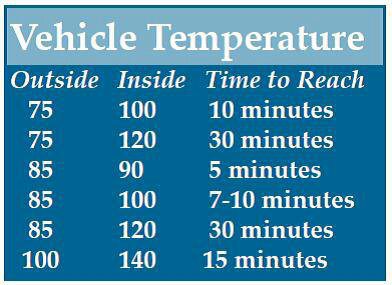 My Dog Is Cool is a great website where you can learn more about the dangers of leaving pets in hot cars, and what to do if you come across a pet left inside a car.  The website recommends that you contact your local animal control or police department and inform them of the situation.
While you're on the site, learn how you can help spread the word about summer car safety, and take the Cool Dog pledge to never leave your dog in a hot car!