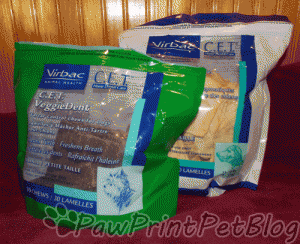 Happy Friday!  I hope everyone had a great week, and is gearing up for a fun weekend!
Earlier this week, Kitsune and I received  a package of goodies to try out from Entirely Pets.  Well, the package was in my name, but the goodies were, of course, for Kitsune!  We received a 30 pack bag of C.E.T. Enzymatic Oral Hygiene Chews, as well as a 30 pack bag of C.E.T. VeggieDent chews.
This review is going to be about the VeggieDent chews since, unfortunately, Kitsune can't have the Enzymatic Oral Hygiene Chews.  The Enzymatic chews contain poultry digest, and Kitsune is very allergic to poultry.
But luckily he is able to have (and loves) the VeggieDent chews!  Kitsune loves to chew, and I'm always on the lookout for new types of chews that he can have.  Having something appropriate to chew on can help keep active dogs (like Kitsune!) out of trouble, and can also help dogs keep their pearly whites nice and clean!  Dental health is an important component of pet's overall health, and one that frequently gets overlooked.
As the name suggests, VeggieDent chews don't contain any meat.  We tested out the treats for small dogs (they do come in other sizes).  Each chew is about 4'' long, 1'' wide, and 1/4'' thick.  They are a greenish/brown color, and hard, but still a bit flexible too.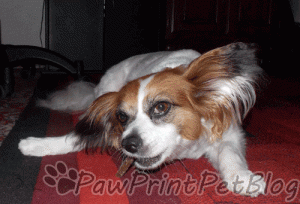 I've been giving Kitsune 1 VeggieDent a day as his before bedtime snack.  As you can probably tell from the photo and video (below), he has been really enjoying them!  So far, its been taking him about 10 minutes or so to finish each chew.  That may not seem like a long time, but keep in mind that, despite his smaller size, Kitsune is a power chewer!
Our experience so far with VeggieDents has been positive.  A couple of possible cons to note are that the treats do contain some ingredients that I know some pet owners try to stay away from, such as corn and soy.  They are also made in Vietnam.  I know some of my readers like to stick to pet food/treats that are made in the US and/or Canada.
Keep in mind that if the CET treats don't meet your standards, Entirely Pets has countless other chews and treats to pick from!  They have stuff like bully sticks and jerky treats, as well as tons of other products for all types of pets!
I am usually really picky about what types of treats I feed Kitsune, so keep that in mind.  I do feel like I'd buy VeggieDents for him in the future.  They may not be the type of treat I'd want to feed him everyday, but as an occasional snack I think they'd be a good way to provide some verity from his regular chews.  The bag of VeggieDent chews I got can be resealed after opening, so hopefully they will stay fresh and last awhile!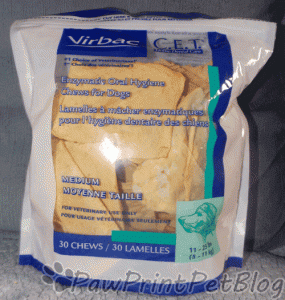 I mentioned that Entirely Pets also sent us a bag of C.E.T. Enzymatic Oral Hygiene Chews.  The bag we got contains 30 chews for 11 - 25 lb dogs.  They look similar to thin pieces of rawhide (the first ingredient listed is beefhide) and apparently they have enzymes that can help keep your dog's teeth clean.
They must smell good, even through the bag, because Kitsune was going nuts for these when we got them.  Unfortunately, like I already mentioned, he can't have them due to his allergies.  So I decided that Kitsune's loss is going to be some other lucky dog's gain!
"Like" Paw Print Pet Blog on Facebook for a chance to win the sealed bag of C.E.T. chews pictured.  We will randomly select a winner from our Facebook fans on Friday, August 30th, and will notify the winner via Facebook.
While you're at it, make sure to check out Entirely Pets on Facebook too!
** Disclaimer: This post was sponsored by EntirelyPets.com.  I received the two products mentioned in this review as well as monetary compensation in exchange for my honest review.  As always, all opinions expressed in this post are my own. **