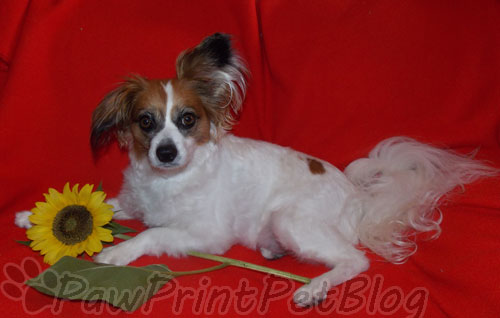 Kitsune loves "helping" us while we garden.  Helping in quotes because what time he's not spending getting in our way or making our job harder, he spends just relaxing, trying to eat as much grass as he possibly can, or attempting to catch all the little critters he can find (squirrels are probably his favorite).
Most of the sun flowers in our garden don't seem to last long before the squirrels gnaw them off the plants and carry them away.  I had to be quick, but I was finally able to cut a few and bring them indoors.  I want to collect some of the seeds for next year.  But until the blooms die and dry out, we have a beautiful sunflower centerpiece on our kitchen table.  Yesterday I took a bunch of pictures of Kitsune posing with one of the flowers, and these are the ones I think came out best.
Hey while you're here, check out the CET VeggieDent Chews review that I posted last Friday!  We're giving away a free bag of CET Enzymatic Chews to one lucky Facebook fan - see our VeggieDent review for details!