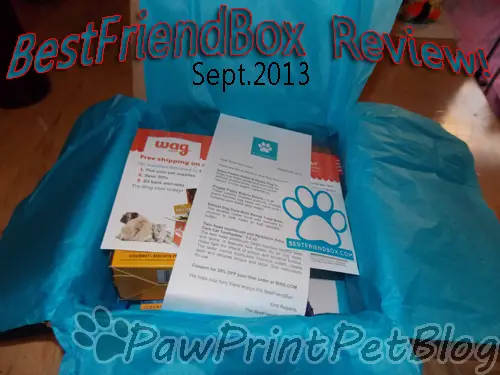 Happy Friday!
Those of you who are regulars to my blog probably know that Kitsune and I really enjoy pet subscription boxes!  For awhile we were subscribed to BarkBox, and back in March I introduced a few other types of pet subscription boxes that are available.  This month we were given the opportunity to review a BestFriendBox!  The box we received was for small dogs, but BestFriendBox offers boxes for all sizes of pooches, and one for cats as well!
You can purchase a BestFriendBox for your best friend for $30.  Paw Print readers can enter the code BFB21 to receive a 20% discount!  Each box includes 3 - 6 products such as healthy treats, high quality toys, and grooming supplies.  For examples of the type of stuff you'll get, check out what Kitsune and I received in our September box!
Sojos 10 oz. Peanut Butter Honey Flavored Treats:  These treats smell so good, I almost wanted to try them myself!  They must smell good to Kitsune too, because they were the first thing he went for when we opened his box.  They are wheat and corn free, and contain 100% natural, human quality ingredients.   They are also preservative free.  The treats are shaped like little bones, and are a great size - not too big, but not too small.  The 10 oz box has quite a few treats in it.  They should last awhile, although I'm sure if Kit had his way they'd be gone already!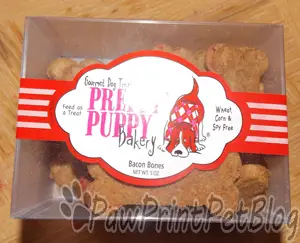 Preppy Puppy Bakery Bacon Bones:  We also received a 5 oz box of Bacon Bones made by Preppy Puppy Bakery.  They are wheat, corn, and soy free.  Even better than that, according to Kitsune, is the fact that they actually contain bacon bits!  These treats are also shaped like bones.  They're a bit bigger than the Sojos bones are, but can be easily broken in half if your doggy is on a diet.  Kitsune definitely gives these treats two paws up!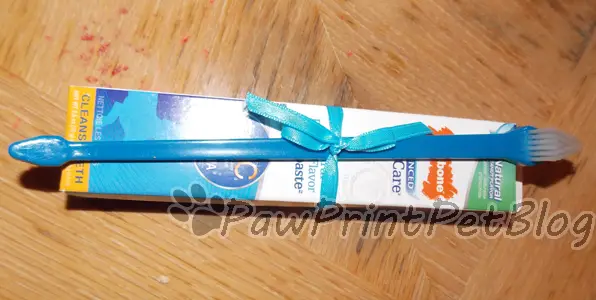 Twin head pet toothbrush & Nylabone Toothpaste:  It was nice of the BestFriendBox team to consider oral health after all those treats they sent Kitsune!  We haven't tried out the toothbrush yet, since Kitsune already has one, but I'm sure it will come in handy in the future.  The toothbrush has cute little paw prints on it (you can't see them in the picture, they're on the other side of the brush), and duel heads so you can select the size that works best for your pet.  The toothpaste we got is peanut flavored, so Kitsune seems to like it.  It says that it's formulated to reduce plaque.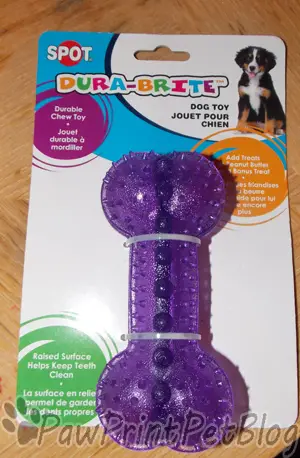 Ethical Dog Dura-Brite Treat Bone:  Kitsune isn't usually a huge fan of rubber toys.  He usually prefers playing with plush toys.  He really seems to be having fun with this toy so far though.  The toy is designed so that pieces of treats, or peanut butter, can be put inside.  I've been breaking up some of the Sojos and Preppy Puppy bones that he got and putting them inside this toy.  It keeps him busy for much longer than just a regular treat would, and the raised bumps and spikes on the toy are suppose to help keep teeth clean.
I even tried putting a small amount of the Nylabone toothpaste inside the bone.  Since Kitsune likes the taste of the toothpaste (peanut flavor!) he spent a lot of time chewing and licking the bone to get the toothpaste out.  Much less work than brushing his teeth is!
It didn't surprise me that Kitsune liked this toy when it was full of treats, but he actually chewed on it for quite awhile after he had already gotten out all the treats!  We haven't had the toy for very long, but so far it seems to be really durable.  The only thing that some pet owners might want to take note of is that the packaging attached to the bone does say that it's made in China.
Check out how much Kitsune enjoys his new toy!
I would definitely purchase Kitsune a BestFriendBox in the future!  This stuff isn't pictured, but they also sent a coupon for 20% Wag.com, and a cute little note that listed and described all the different products they sent in our box.  The box itself is cute, and everything was packaged really well.
I was a bit worried that the small sized box would be too small for Kitsune, since he's just a pound away from what the BestFriendBox team considers to be medium sized.  But I think that everything we received was the perfect size for him!  Even though we got a small dog box, they sent plenty of treats, and the toy seems really durable.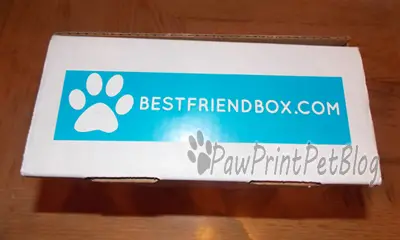 Want to check out BestFriendBox for yourself?  We're giving away one free BestFriendBox, for either a dog or a cat!  See our Rafflecopter below to enter!  Contest is open to US  residents only.
** Disclaimer: The BestFriendBox team sent us a free BestFriendBox to review, and are also hosting our giveaway. As always, all opinions expressed in this post are my own. **