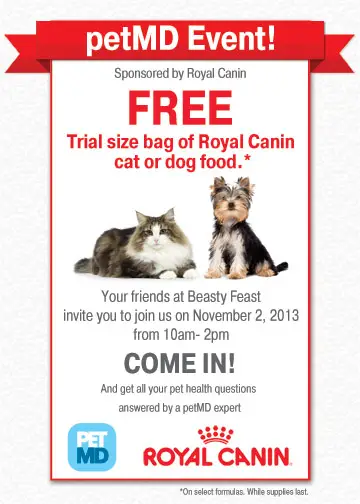 Our pets are what they eat, or so the old saying goes.  As the owner of a dog with food allergies, I'm all too familiar with how difficult it can be to find the perfect food for a beloved pet.  More often than not, figuring out which food works best for our pets can be a matter of trial and error.  While the end result - finding a food our pets thrive on - is worth the trouble, the trial and error method can get expensive.  I remember all too well the collection of barely eaten dog food bags I had laying around while trying to figure out which food would work best for my dog Kitsune.
Luckily there are pet food companies out there that make this process a little easier!  If you're in the New York metro/NJ area, Royal Canin representatives will be making appearances in select stores.  While you're there, don't forget to pick up a free sample bag of cat or dog food! 
Check out the following stores to talk to Royal Canin representatives and pick up your free food samples!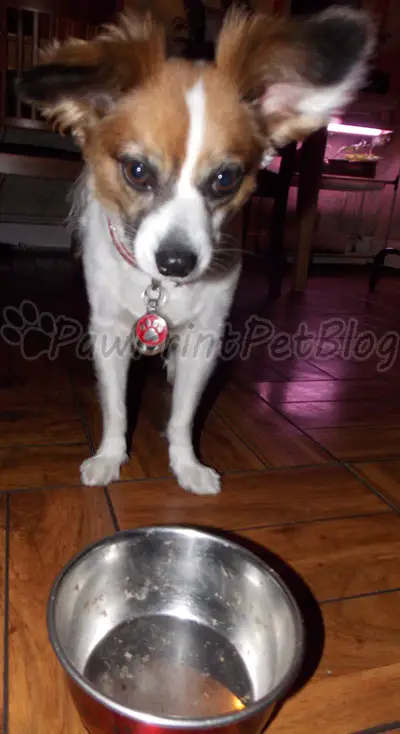 Saturday, November 2nd:
Hoboken Pet, 11-3pm
524 Washington St
Hoboken, NJ 07030
Beasty Feast, 10-2pm
630 Hudson Street
New York, NY 10014
Saturday, November 9th:
Corrados, 12-4pm
600 Getty Ave.
Clifton, NJ
Petopia, 29 10-2p
29 Avenue A
New York, NY 10009
If you can't make it to any of the listed in-store events, you can enter your zip code on this website to see if other stores near you will be giving away free samples.  If you don't live near any participating stores, you can receive a coupon for $3 off Royal Canin pet food.
Royal Canin dog foods available include the following...
For those of you with feline friends, samples of select Royal Canin cat foods (Indoor Adult 27, Indoor Light 40, Indoor Intense Hairball, Special, and kitten) will also be available.
For anyone who can't make it to the in-store events, or if you just want to score some extra food, check out the giveaway below!  Royal Canin has generously donated 40 lbs of pet food samples!  Two winners will be selected on November 10th.  Each winner will receive approximately 20 lbs of Royal Canin pet food!  The contest is open to US residents.  However, anyone outside of the US who wants to enter can select a US based rescue to donate their prize to!

**I am blogging on behalf of BlogPaws Pet Blogger Network and Royal Canin. I received compensation for my time from Royal Canin for sharing the information in this post, but the views expressed here are solely mine.**