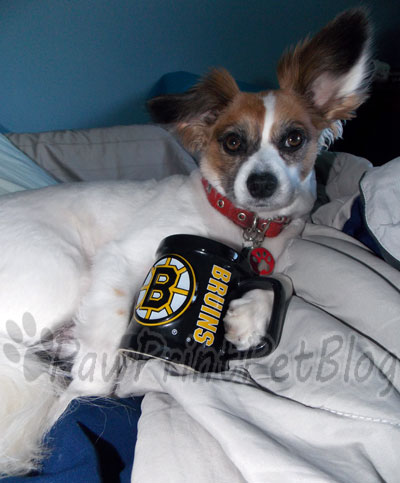 My fiance and Kitsune may be die hard NJ Devils fans, but I grew up in New England.  I have many fond memories of traveling to Boston to watch the Bruins play.  Although I haven't had much time lately to catch any games, I do still try to follow what's going on in the world of hockey.  Yesterday when the Boston Bruins posted about their 2014 Pucks & Pups calendar on their Facebook page,  I was obviously intrigued.
The calendar features Bruins players and management members paired with adorable (their pets or adoptable) dogs!  Now animal lovers who also enjoy hockey can have the best of both worlds.  And the best part?  Proceeds from the calendar will benefit both the Boston Bruins Foundation and MSPCA-Angell!
MSPCA-Angell is the second oldest humane society in the US.  They provide many valuable services such as humane education, law enforcement, veterinary care, animal adoptions, and advocacy.
The Boston Bruins Foundation, for anyone who's curious, provides grants to organizations that concentrate on enhancing the quality of life for New England's children through athletics, academics, health, and community outreach programs.
The Pucks & Pups calendar is available now for $20 plus shipping and handling.