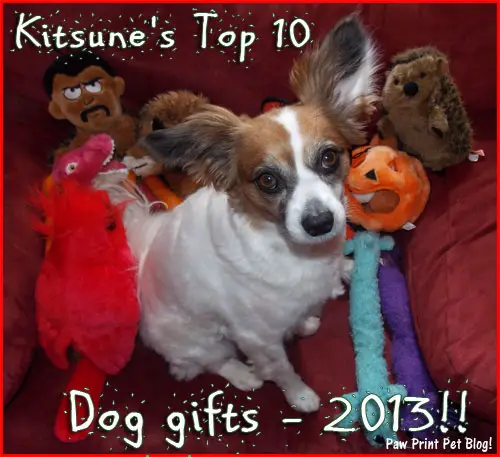 Happy Winter!  It's hard to believe that Christmas is just a few short days away.  With Christmas right around the corner, and the end of the year fast approaching, we're going to take some time to write about the top 10 toys/treats that kept Kitsune entertained in 2013!  If you missed our posts in previous years, feel free to take a look back at Kitsune's Top 10 dog toy picks for 2010, and his 2012 Top 10 lineup (not sure why we skipped 2011)!  Kitsune's tastes have remained much the same, so there will be some familiar 'faces' among our 2013 picks, but we've discovered some awesome new toys as well!  If you're a slacker, like I am, and are still looking for the perfect present for your pooch this Christmas, or just enjoy reading about all things dog, look no further than Kitsune's Top 10 Dog Gifts list 2013!
#1:Tuff Guy Hank: Listed as #1 for a reason, Tuff Guy Hank is probably Kitsune's favorite new toy of 2013!  Created by Kyjen, Hank features a grand total of 11 separate squeakers!  Hank's muscles, made of squeakers, each make a slightly different sound.  And if 11 squeakers doesn't create enough auditory stimulation for your pooch, you'll be happy to learn that Hank's head, instead of being full of brains, contains some type of material that makes a crinkly sound when squeezed.  Hank, and his counterparts Tony and Lars, are stuffing free.  Perfect for dogs like Kitsune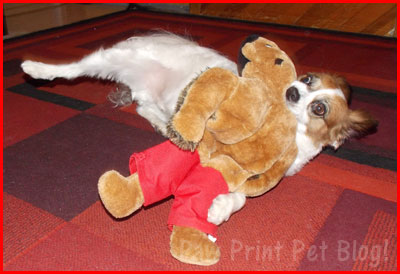 who, although he loves his toys, can't seem to resist the urge to tear them apart when stuffing is involved.  Now I know that all those squeakers might sound daunting to some dog owners, especially those who enjoy a few minutes of piece and quite now and then.  But the amusement you'll get from watching your dog take down his squeaky new wrestling partner is well worth the occasional squeaker induced headache!
#2 Coleman Bushy Tail Fox: Yes, this toy also made the cut on our 2012 toy list.  Kitsune loves it so much I just had to include it again this year.  Its become one of his main "go to" toys, and watching him drag it around the house is always amusing (the toy is as long as he is)!  Mr. Fox has held up surprisingly well over the years, especially considering the amount of abuse Kitsune puts him through.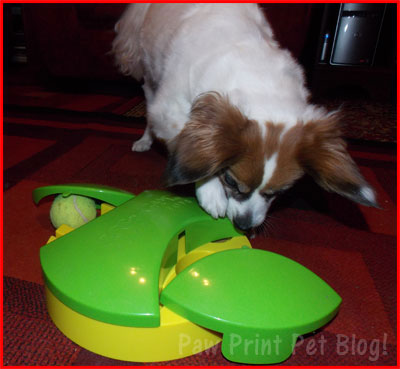 #3 Dog Games Tennis Slider: The puzzle we have pictured is by Kyjen, but puzzle toys in general can be awesome for dogs - especially dogs like Kitsune, who is very smart and needs a lot of mental stimulation to keep him out of trouble.  It doesn't take Kitsune too long to figure out puzzles, but the addition of things like tennis balls and treats can make playing with the same puzzle over and over fun and exciting each time!  The puzzle we have pictured has 4 spots for hiding treats and two tennis ball compartments.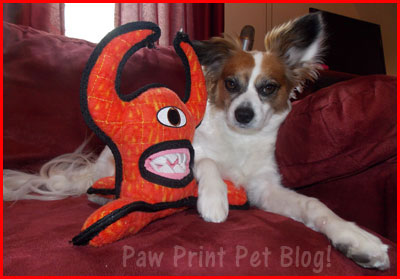 #4 Tuffy's Alien: Called "Lieutenant Splock" by the company that makes them, Kitsune decided to rename his alien "Zorbex".  Zorbex is not our first Tuffy toy, and I'm sure he won't be our last.  Kitsune's oldest Tuffy toy, an octopus that he got when he was 7 months old, is still in amazing condition despite nearly 5 years of rough Papillon play!  Zorbex isn't quite that old, but he's definitely no stranger to abuse at the paws (and teeth!) of Kitsune.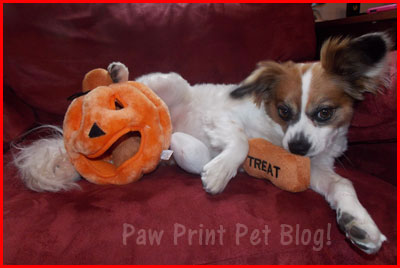 #5 Hide-A-Toy Plush Puzzle:  Here we go, another puzzle type toy!  The thing that  makes these toys awesome is that they are toys inside toys!  The cloth puzzle toy contains plush squeaky toys that your dog has to work to get at.  Kitsune loves the squeaky toys that come with these puzzles - probably because they always seem to be extra loud.  First he gets to have fun removing the toys from the puzzle, then he gets to have even more fun annoying me with extra loud squeakers!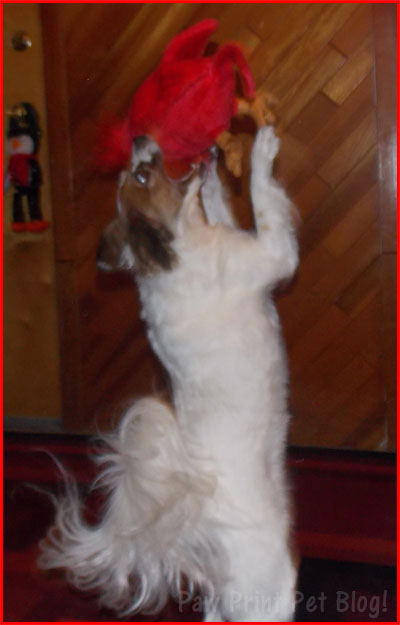 #6 Cardinal Dog toy: It's a plush - It's a bird - It's a football - It's all of the above!  Ok so this toy may not have any squeakers, but Kitsune loves it nonetheless.  We mostly use this guy as a more interactive type toy, tossing it around for Kitsune to (as you can see in the photo) catch.  Because what dog doesn't love a good game of catch?  And why play catch with a ball when you can play it with a giant, fuzzy, bright red toy bird?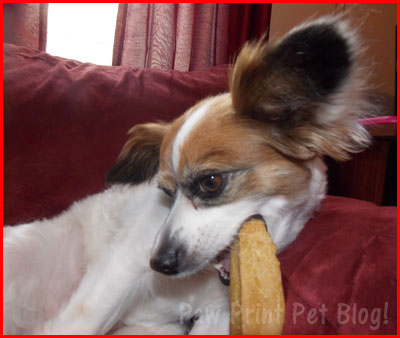 # 7 Himalayan Dog Chews: Himalayan dog chews have also made our top 10 lists in the past, and rightly so!  Kitsune loves them, and they are much healthier than most other types of dog chews available.  Made out of Yak's milk, Himalayan chews are not only a healthier alternative, but for most dogs (including Kitsune), they are long lasting!  Shh don't tell Kitsune, but he has 4 of these waiting in his stocking for Christmas morning!  He's going to have a very cheesy Christmas.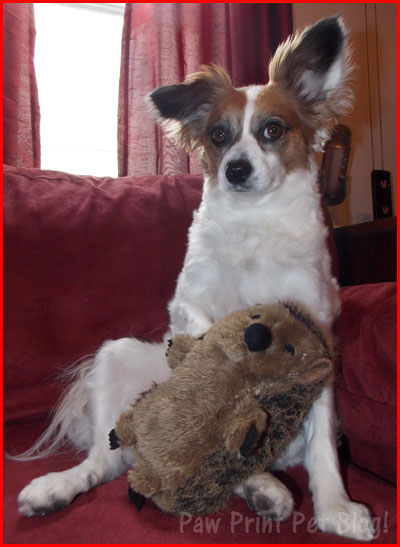 #8 Hedgehog Toy: What is it about dogs and hedgehogs?  I know there are a few different types of plush hedgehog toys sold for dogs, and I've met quite a few dogs who loved them - Kitsune included.  You might be able to tell from the photo, but Kitsune's hedgehog is a bit deformed now.  Kitsune plays with him so much, that he's had to spend more than his fair share of time in the washer, and I've had to sew him back together on at least 5 separate occasions now.  Maybe not the most durable pet toy in the world, but what he lacks in durability, he more than makes up for in fun.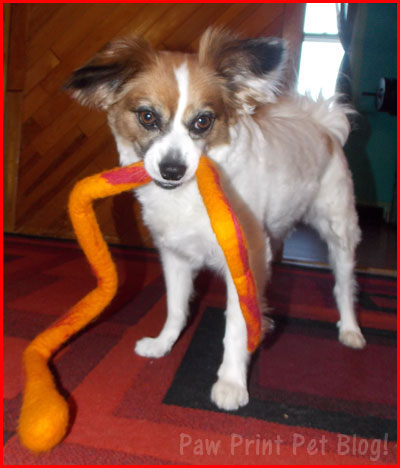 # 9 Lollycadoodle Snake:  We've written about these Lollycadoodle toys here before.  They are made of 100% natural, biodegradable wool.  Kitsune has had his Lollycadoodle snake for awhile now, and it's still going strong despite being one of his favorite tug toys!  The Lollycadoodle website offers toys in lots of interesting shapes, and also sells unique pet beds and mats.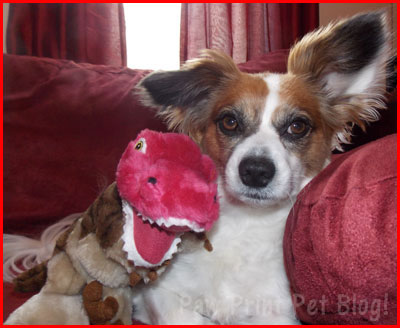 # 10 Dino Dog Toy: Last, but not least, is Kitsune's Coleman T-Rex Dino Dog Toy.  This toy, so far, has been really durable, but its soft/floppy construction makes it a lot of fun to pick up and shake around, according to Kitsune.  It has a large squeaker in its body that doesn't sound quite like your typical squeakers.
And there you have it, Kitsune's top 10 toy/treat picks for 2013!  Of course toys, treats, and chews are awesome - but the best thing you can give to your dog is your time!  Most of them don't care if they're playing with an expensive new toy or a dirty old sock, as long as they have you to play with them! 🙂
Comment below and let us know - what are some of the toys your pets enjoyed most this year?