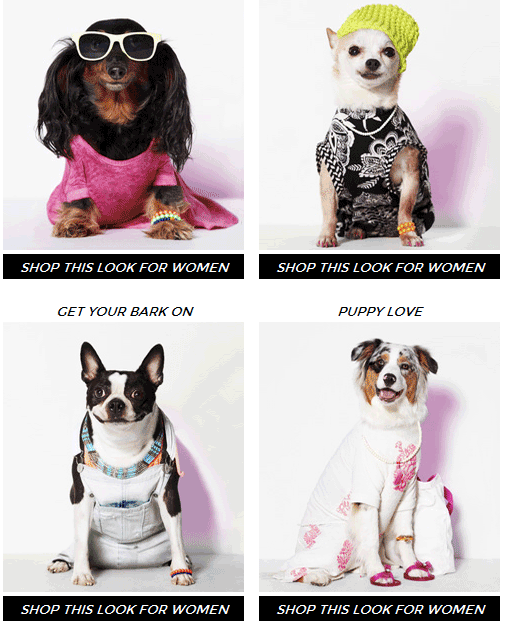 I'm not a big fan of April Fools' Day.  Call me gullible, but growing up I always seemed to be the victim of my family's holiday pranks.  The worst of which was the time they told me that my indoor cat had escaped and I spent hours, in tears, searching for her in the dark.  Unbeknownst to me, Mittens was safe and sound inside the whole time.
Luckily, not everyone plays April Fools' Day jokes that are that cruel.  The popular clothing company American Eagle, for example, launched an April Fools' Day prank that not only raised $100,000 for the ASPCA, but received so much attention that the company decided to turn their prank into reality!
American Beagle Outfitters started out as an April Fools' Day joke.  American Eagle patrons were asked to sign up to be placed on a waiting list to receive more information on the companies (then fake) new doggy designs.  Participants were rewarded for signing up with a 20% store discount, and $1 from each order was donated to the ASPCA.  Check out the "dogumentary" video American Eagle posted as part of their prank:
But some ideas are just too good to pass up.  Although "American Beagle" started off as a prank, and a fun way to raise money for charity, American Eagle received such an overwhelming response that they decided to release a real line of dog clothes, coming this fall.
--------------
If your dog is more of a nudest, but still wants to take part in the April Fools' Day festivities, why not check out the Netflix originals Sizzling Bacon and Rotisserie Chicken?  Although I don't know, your dog might find watching bacon cook for 20 minutes and not being able to eat any of it to be quite torturous.