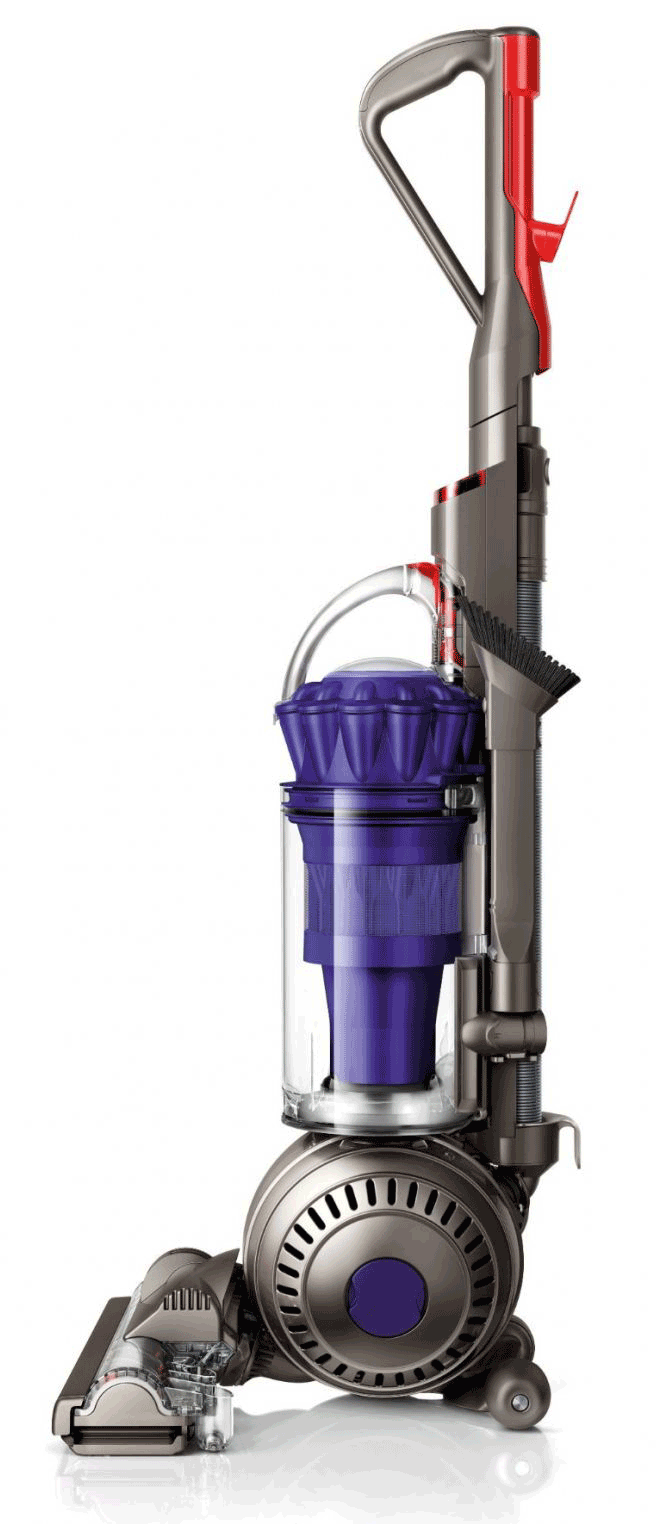 Pets can be messy - very messy!  For some people, the mess that pets make can be the one major downside to having an animal in their life.  All my current pets are adults, and have left the really messy baby days behind them.  But that doesn't mean I still don't spend a lot of time cleaning up after them.  What can I say, I'm a bit of a neat freak (thanks mom!).
As a self proclaimed neat freak and lover of messy pets, I appreciate a good vacuum cleaner.  And believe me, I've gone through my share of vacuums!  I admit that I don't really take the best care of my vacuum cleaners, and that coupled with how often I use them usually means that they don't last all that long for me.  My current vacuum was on its last leg (err..wheel?) so I knew that soon I'd be in the market for a new one.  Then, perfect timing, I was presented with the awesome opportunity to review a Dyson DC41 Animal Complete Vacuum!
I'd never owned a Dyson vacuum before, although I've heard good things.  I've been using the one I have now for just over a month now (a month and 5 days to be exact), and so far I'm impressed.  The first time I used it, it picked up a lot of dust and hair that my old vacuum apparently missed.
What impressed me even more than how much stuff it picked up, was how it made my rugs look, and feel, in general.  I have two large, almost room sized, area rugs in my apartment.  They've both been around for a few years, and have seen their fair share of abuse.  But after vacuuming them with the DC41 just once, they not only looked better than they have in awhile, but also felt softer/more springy again!
Without going into extreme detail, I'm going to list some of the pros/cons I've discovered using this vacuum so far...
Pros:
The vacuum I got came with some awesome wand attachments that have been working really well for cleaning the furniture and hard to reach places like the ceiling fans.
The ball on the vacuum does make it a bit easier to maneuver compared to traditional vacuums.
It works!  Seems like a strange thing to list as a pro, but it works really well.  It does an amazing job cleaning up pet hair, as you can see in the picture below.
All the parts, even the filter, can be cleaned so you don't have to worry about spending money on replacement parts.
The DC41 isn't as loud as the other vacuums I've owned in the past.
It works really well on hard floors as well as rugs.  You can turn the brush head off to clean flooring types other than rugs.  I actually use it a lot to vacuum my kitchen and it does a great job at cleaning up all the crumbs!
Cons:
For the price Dyson vacuums normally sell for, I wish it was made of sturdier materials.  As far as I can tell, all the parts are plastic.
It can be kind of hard to set the vacuum upright again after you've been using it.  There's no lever or anything to release the vacuum and to release it or set it upright again you kind of just have to push/pull it into place.
I really really wish the cord was retractable.  Its not, and that's usually a feature I look for when buying a vacuum.
The wand tool has been a bit awkward to use for me.  The wand turns on automatically when you set the vacuum upright.  I seem to be in the habit of setting the vacuum upright before turning it off, even when I don't want to use the wand, so the top of the wand, which is set into the handle of the vacuum, starts sucking at my hand.  Not a huge deal but kind of annoying.  Also, the plastic part of the wand that you attach the attachments too is pretty long, and it doesn't bend, so while it works great for some things, it can be a bit awkward to use at times.
While the famous Dyson ball does seem to increase maneuverability, be careful not to run anything over with it!  I actually damaged the cord of my vacuum in one spot by accidentally running over the cord with the ball.  I also ran over my toe with it once - and lets just say that I've been really careful ever since to make sure I don't do that again!
What's a vacuum review without a demonstration!?  Since I didn't have any marbles and stacks of change to vacuum up, I decided to try it on - what else - pet hair!  Kitsune was in dire need of a trim last weekend and against my better judgement, I trimmed his hair on the living room rug.  This is something I had done in the past and regretted - we had dog hair stuck to the rug for weeks afterwards.  But I was hoping the DC41 would be up to the task and...well, take a look at the results for yourself...

I think that picture pretty much speaks for itself!  The Dyson DC41 really sucks (in a good way!), especially when it comes to picking up pet hair!  I'd definitely recommend it to fellow lovers of messy pets.  This has been my first ever experience with a Dyson product, but based on my experience so far it likely won't be my last.
Have you ever tried a Dyson vacuum before?  What kind do you use, and does it do the job when it comes to cleaning up after your pets?  Comment below!  In the meantime, I'll continue using my new vacuum and will post about it again in the future to let you all know how it holds up.