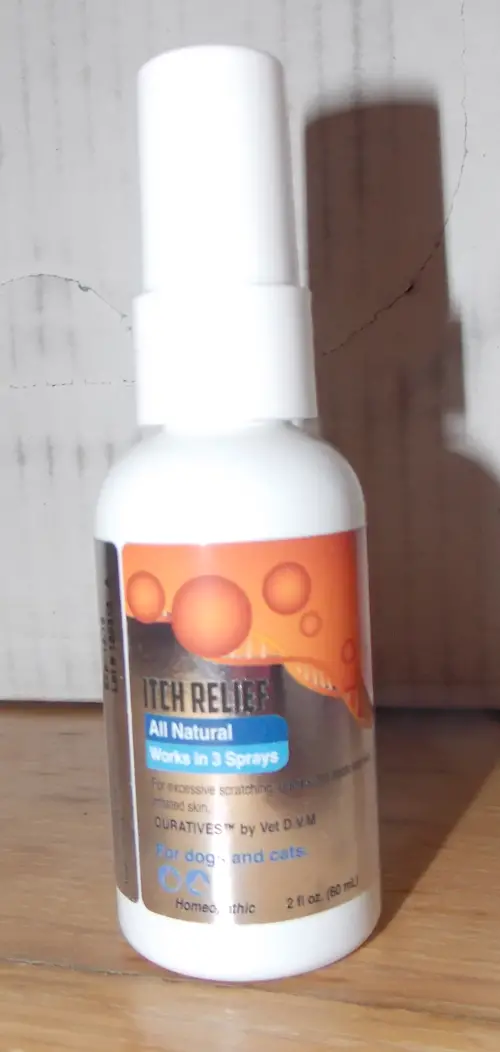 Much to my dog Kitsune's delight, it seems like the warmer weather is here to stay - at least for awhile.  The spring/summer weather means more trips to the park, time spent lounging in the yard, and long walks on the beach.  But unfortunately for many pets it can also mean allergies, dry skin, and bug bites.  Kitsune is no stranger to the summer time itchies.  Fleas and tics are prevalent in our area, and despite my attempts to keep them off my fuzzy buddy, they do sometimes pester him.  To top it off, Kitsune has both environmental and food allergies that, when exposed to the wrong things, can send him into scratching fits so bad that he sometimes makes himself bleed.
When a spokesperson for VetDVM asked me to review their homeopathic Itch Relief spray I was happy to do so - Not only because I love opportunities to introduce new (especially homeopathic!) products to my readers, but also because I thought that this product could potentially be one that could really come in handy for my itchy pup Kitsune!
Most people who know me probably know that I'm a health nut when it comes to my pets.  Of course I want them to be healthy and happy, but many of the pet products on the market today contain dangerous ingredients that, while they may be effective, can potentially cause symptoms way more dangerous than the ones they are designed to prevent or cure.  I'm a big fan of homeopathic, natural alternatives when it comes to treating my pets.  That's one of the reasons I was so excited to try out VetDVM's Itch Relief spray.  Taken right off the About us page on their website, the ingredients they use are "all natural and toxic-free."  They "work within the first application or dose", and "contribute to your pet's lifespan" rather than compromising it!
Taking a closer look at the Itch Relief spray, it contains all natural ingredients that are not only healthier than chemical alternatives, but they work!  Each ingredient serves a purpose and together they treat itching caused by a wide range of factors including (but not limited too) allergies, fleas, hot spots, licking, dry skin, hair loss, and dermatitis.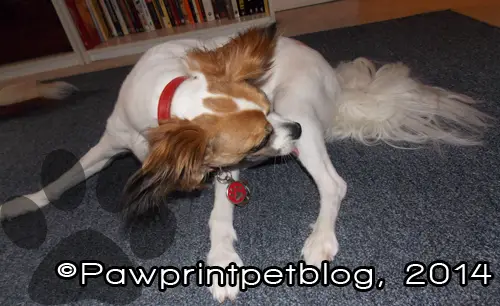 Ok so the ingredients are great - but none of that matters if you can't get your pet to take the medication right?  Luckily the Itch Relief spray is really easy to administer and dose.  It's a tasteless liquid that can be sprayed directly into your pet's mouth, into their water bowl, or it can be safely applied topically to any particularly itchy spots.
What did we think of the Itch Relief spray?  Is it all it's cracked up to be?  In my humble opinion, this stuff is awesome!
I already mentioned that Kitsune suffers from allergies.  And what dog doesn't have to deal with the occasional bug bite?  When Kitsune is dealing with a case of the itchies, he pretty much drives me crazy with his constant scratching and chewing on himself.  But a few sprays of this awesome product stopped his scratching and chewing almost instantly.  I noticed a impressive decrease in how much he was scratching after only one dose!
I also had the opportunity to use this product topically when I noticed Kit had gotten a few bug bites after one of our recent park trips.  I sprayed the Itch Relief spray on one of his bites but not the others, and noticed that not only did he stop scratching that spot - but the bite that I used the spray on also seemed to heal a lot faster than the others!
Every time I  used this spray on Kitsune it seemed to greatly reduce his symptoms.  We never experienced a single negative side effect, and the spray was very easy to administer.  All in all, I highly recommend this product.  It's definitely one I will be keeping in my doggy medicine cabinet for now on!  If you're interested, VetDVM also offers other products, all of which are created from nontoxic, all natural, and effective ingredients.
**This post was sponsored by VetDVM, but as always, all opinions expressed here are our own. **