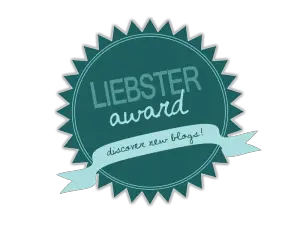 Many thanks to Walks with Rama for nominating Paw Print Pet Blog for a Liebster Award!  It's been a very busy week but I'm finally getting around to answering the 11 Liebster Award questions presented to me.  Even if you're not interested in reading the Q & A, be sure to check out the bottom of this post to check out my 11 nominees!
1. Has your vision for your blog changed since you started it?
No, not really.  I enjoy writing, and love animals.  Paw Print started out as a way for me to combine those two passions.  My numbers of subscribers/blog views has been increasing monthly, and lately I've had some amazing opportunists to come out of that, but at the end of the day Paw Print is today what it started out as 4 years ago - A place where I can write about what I love.  If I can help to spread awareness, improve the lives of animals, or just make someone smile along the way then all the better!
2. What have you learned from other bloggers since starting your blog adventure?
To tell you the truth, my blog adventure has pretty much been a solo one.  I don't really know any other bloggers.  There are a couple of blog community websites that I visit every now and then but for the most part I keep to myself.  Hey if you're a blogger and are reading this, feel free to drop me an email or comment below!  I'm sure there's lots of stuff I could learn from other bloggers.
3. What do you hope to accomplish with your blog?
I once had a dog owner email me to let me know that one of my blog posts helped to save his dog's life.  If I had to list just one thing that I'd like to accomplish with this blog it'd probably be that - help to save animal's lives.  Or if not to save their lives, then at least to improve them.  Other than that, like I mentioned in question 1, if I can make a fellow animal lover smile or laugh while reading one of my posts then that's enough for me.
4. Do you feel you are able to coexist with other bloggers even if they might express opinions that are different from yours?
Well like I mentioned, I'm not really big in blogger communities.  That being said, I'm generally a very tolerant person and am very respectful of other people's opinions.
5. What is your favorite blog (other than your own) and why?
Is it weird that I don't really spend a lot of time reading other blogs?  Between working a full time job, working on my books, keeping up with my own blog, and spending time with my family (pets included!) I tend to stay pretty busy.  When I do have down time, I usually prefer to spend it away from the computer.
6. If you could live anywhere in the world, where would it be?
I'm not too picky about location as far as where in the world, but my dream house would be somewhere out in the woods.  I'm taking middle of nowhere woods.
7. If you could drop everything right now and do anything you wanted, what would you do?
Probably go hiking.  Ambitious right?  I grew up in a really rural area surrounded by nature, and really miss it since moving to the city.  If you're looking for a more big picture answer, if I could do anything, money not being an issue, I'd want to get a big house in the woods, start my own animal rescue, and spend my days helping animals and writing.
8. What is your favorite animal?
I have no idea.  I love all animals, really.  From bugs to whales, each species is unique and awesome in its own way.  I can never pick a favorite because I love them all.
9. What are your passions in life?
My biggest passions are animals, writing, and my family (my fiance and pets).  I have a lot of minor hobbies as well but those would be my top 3.
10. Which do you prefer–rainy days or sunny days?
I love the rain but would probably go with sunny days because sunny days are generally better for outdoor activities.  Especially according to my walking buddy Kitsune, who hates setting a paw outside when it's raining.
11. Which do you prefer–city or country life?
Despite the fact that I live in the city, I'm not a city fan.  I can't wait until I can finally move out of the city - the further away the better!
-------------------------------------------------------------
Below are the blogs I'm nominating for their own Liebster Awards!  If you're one of my nominated bloggers looking for instructions, here they be....
– Nominee posts award on their blog.
– Nominee links back to the nominator's blog and of course thanks them.
– Nominee answers 11 questions nominator ask of them.
– Nominee then nominates 11 new bloggers they deem worthy with less than 300 followers & make sure to tell them.
– Nominee poses 11 questions for their nominees to answer.
Questions:
1. Cats or dogs?  Why?
2. What website(s) do you find the most distracting when you're trying to work on the computer?
3. What do you feel is the most unique thing about your blog?
4. If you could go back and teach your past self one thing, what would it be?
5. What inspired you to start your blog?
6. What's your most embarrassing pet related story?
7. What's your biggest pet peeve?
8. If someone gave you the power to save one animal species on earth, which would it be?
9. If your life was made into a movie, what do you think the title would be?
10. What's the story behind the most unique name you've ever given one of your pets?
11. What are your future goals for your blog?
And my 11 nominees, in no particular order (and I admit that I don't know how many followers these blogs have, sorry) are....
7. So Fly
10. Life Embarked