I may be a bit biased here, but my dog Kitsune is the best dog ever!  He's disgustingly cute, an expert snuggler, and, at 5 years old, is still as playful as a puppy.  My perfect buddy, he's found the perfect balance between sweet and mischievous.
But like I said, I might be a bit biased.  Because undoubtedly dog owners will disagree with me - knowing that, in fact, their dog is the best dog ever.  It's okay, we can agree to disagree.  All dogs are awesome, and they all deserve to be viewed as the best in the eyes of their owners.
And of course, loving pet owners only want the best for their furry champions.  That's especially true when it comes to food.  You know the old saying "you are what you eat".  Only the best foods will do to fuel all the best dogs out there!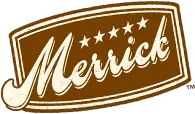 Much to his enjoyment, Kitsune recently got to try out a verity of canned and dry Merrick dog foods.  The formulas he got to try included Classic Real Beef with Whole Barley & Carrot dry food, Chunky Big Texas Steak Tips Dinner canned food, and Chunky Pappy's Pot Roast Dinner wet food.  My best buddy has truly been eating like a king!  He loves all three of the Merrick formulas that he got to try.  The two canned foods look and smell more like beef stew made for humans than dog food.  They are grain free, and all three formulas we got are poultry and egg free - perfect for Kitsune's food allergies.  Merrick has 125 dog, cat, and pet treat recipes!  With so much verity, you're bound to find something your pet will like.
Not only are many of the recipes grain free, but they also contain wholesome, fresh ingredients that are never sourced from China.   The recipes are invented in Merrick's own five star kitchens, in manufactured in facilities that uphold strict FDA guidelines.  From raw ingredients to your puppy's plate, Merrick strives to provide all the best buddies of the world with healthy, highly palatable pet foods.
If you need proof that Merrick foods are highly palatable, just ask Kitsune!  I'm pretty sure he's convinced that we've stopped feeding him dog food and started giving him human food instead.  He really, really enjoys the three Merrick formulas that he got to try out, and so far he's been doing well on them - no upset tummies here!
Want a chance to try out Merrick pet food for yourself (er, well I suggest you feed it to your pet and don't actually eat it yourself, despite the fact that it does smell really good!)?  Well here's your chance!  Merrick is giving one lucky dog owner the chance to win free food for a whole year!  Please see the rafflecopter giveaway below.  The contest is open to USA residents over the age of 18.
*Disclaimer:  This post is sponsored by Merrick and the Pet Blogger Network.  I am being compensated for helping spread the word about Merrick Pet Care and their Best Dog Ever campaign, but Paw Print Pet Blog only shares information we feel is relevant to our readers.  Merrick Pet Care, Inc. is not responsible for the content of this article.*