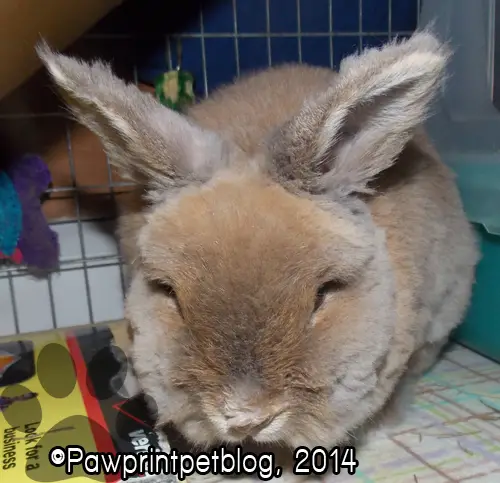 Hello!  I hope everyone is having an awesome start to their summer!  It's not too often that I make more personal posts, but this is going to be one of them.  Just a general update on what's going on with my pack - pets and humans!  Feel free to skip this post if it isn't your thing.  I do have some more informative posts/pet product reviews planned for July, so keep a lookout for those.  Without further ado, here's what we've been up to!
I guess I'll start with Barnaby, since I posted his picture first.  Still hard to believe that my little guy is already 7 years old!  To me, he doesn't look or act any older than he did when we got him, when he was only 8 months old.
Nothing too new is up with Barnaby.  You can probably tell from the picture that he had a hair cut recently.  It's been getting pretty hot here, and his hair was getting so long, I thought he might be more comfortable if I trimmed his hair for the summer.  He looks like a completely different bunny without his crazy mane!
I'm waiting for the UPS guy to get here as I type this.  I ordered Barnaby a few new toys and a huge box of hay.  He has been really playful lately.  Of course it seems like his favorite time to run around is just a few hours before I have to wake up for work.  You know - early enough that the lack of sleep makes me a zombie for the rest of the day, but late enough that it's so close to the time I'd have to wake up, that it's pointless to lay there and try to fall back asleep.
While I'm on the topic of Barnaby, if you haven't already, check out our new book!  Every month we donate a percentage of the proceeds to animal rescue organizations.
Little Miyuki, my youngest pet, turned 3 this month!  Miyuki and Aurora, the two girls, are both doing really well.  All three of the geckos have been enjoying the hotter weather immensely.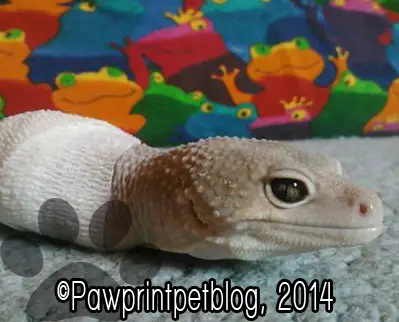 The reason I didn't say that all three of the geckos are doing really well is because Haku broke his front right leg.  I have no idea how he did it.  I check on the geckos a lot.  I looked in on them before bed one night and Haku was fine.  The next morning I was giving them clean water and Haku's little leg was very obviously broken.  That was on June 22nd, and apparently it could take up to 8 weeks for his leg to heal.  It's splinted up against his body so he can't walk on it and damage it more, as you can see in the picture.
Haku was VERY cranky for awhile, understandably.  I was really worried about him because he wasn't eating on his own.  Which if you know Haku, you know is a big deal - he looves to eat.  Finally this morning he ate on his own, so hopefully that's a good sign that he's feeling better.  I'll keep you all updated on his progress.
Despite the fact that I am obviously obsessed with Kitsune, his update is going to be the shortest.  Nothing is really new with him.  He's just been his crazy, hyper self.  Now that the weathers been nice we've been taking him to the park as often as possible, which he, of course, loves.  But other than that, nothing much has changed in the life of Kitsune.
The Peoples
I don't normally post much about my fiance and I - this is a pet blog after all!  But my fiance started a new job today and I think that's blog worthy!  He has been looking for a new job for awhile and the one he found I think is going to be a really good fit.  To be totally selfish, I'm really excited he found something because it means I can finally talk to my boss about possibly cutting my hours.  I keep getting scheduled for 10+ hour days and its been really stressful for me.  When I was the only one working I dealt with it because we needed the money, but now that's changed.  I really hope my job approves my request to reduce my hours - then I'll have more time to post here and work on my books.  And of course to spend more time with my pets!
So that's what's been going on with all of us.  Other than Haku's misadventure we've all been doing well.  Like I mentioned, I have lots of posts/reviews planned for July and hopefully I'll have the time I need to post more often!  I want to thank everyone who reads my blog for stopping by.  The number of daily visitors to Paw Print Pet Blog more than tripled this month!  I really appreciate all our readers, Facebook fans, Twitter fans, etc.  I want to hear from you!  Don't be shy - feel free to drop me an email anytime (see the "About" page for my email address), or stop by and say hello on Facebook, Twitter, Google +, or Pinterest.  Or you can always post a comment below any of my blog posts.  Thanks again and I hope everyone has a fun, safe summer!