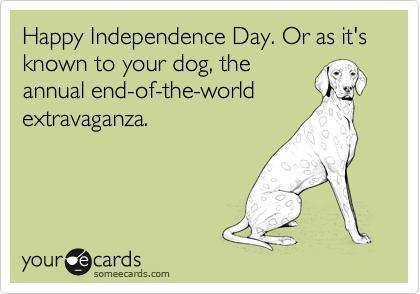 Wishing all of my readers, and of course their pets too, a happy a safe 4th of July!
I know I've written about this before, but make sure to keep your pets safe during Independence Day celebrations!  I know Kitsune, for one, does get nervous when he hears fireworks.  Fireworks are the main danger most pet owners think of when thinking about the 4th of July, but there are a few other dangers to be aware of as well. 
Never leave alcoholic drinks unattended where pets can reach them. Alcoholic beverages have the potential to poison pets.
Do not apply any sunscreen or insect repellent products to your pet if they are not specifically made for use on animals.  Ingestion of sunscreen products can result in drooling, vomiting, diarrhea, excessive thirst and lethargy. The misuse of insect repellent that contains DEET can lead to neurological problems.
Always keep matches and lighter fluid out of your pets' reach. Certain types of matches contain chlorates, which could potentially damage blood cells and result in difficulty breathing—or even kidney disease in severe cases. Lighter fluid can be irritating to skin, and if ingested can produce gastrointestinal irritation and central nervous system depression. If lighter fluid is inhaled, aspiration pneumonia and breathing problems could develop.
Keep in mind that foods such as onions, chocolate, coffee, avocado, grapes & raisins, salt and yeast dough can all be potentially toxic to companion animals.  Give any special treats or foods in moderation.  Most pets will enjoy a special holiday treat, but no one enjoys an upset stomach!
Do not put glow jewelry on your pets. While the luminescent substance contained in these products is not highly toxic, excessive drooling and gastrointestinal irritation could still result from ingestions, and intestinal blockage could occur from swallowing large pieces of the plastic containers.
Keep citronella candles, insect coils and oil products out of reach. Ingestion of these products can produce stomach irritation and possibly even central nervous system depression. If inhaled, the oils could cause aspiration pneumonia in pets.
Never use fireworks around pets! While exposure to lit fireworks can potentially result in severe burns and/or trauma to the face and paws of curious pets, even unused fireworks can pose a danger. Many types contain potentially toxic substances, including potassium nitrate, arsenic and other heavy metals.  Many pets are afraid of the sound of fireworks, and it's not uncommon for them to run away to try to escape from the sounds.
Loud, crowded fireworks displays are no fun for pets, so please resist the urge to take them to Independence Day festivities. Instead, keep your little guys safe from the noise in a quiet, sheltered and escape-proof area at home.
Remember to keep ID on your pet as necessary.  That way, if the unexpected happens and your pet gets out on his/her own, she/he will have a greater chance of being returned to you sooner.
Holidays can present unique dangers to pets, but take the necessary precautions and you and your pet should be free to have fun!
Sound off in the comments - Is your pet afraid of fireworks?  What are some things you do to help ease their fear?  Are you doing anything fun to celebrate the 4th?