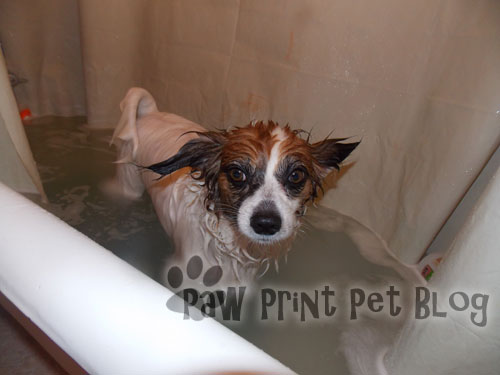 I'll just admit it, fully aware that I might catch flack for this, but I bathe Kitsune often.  Sometimes as often as once a week, depending on what misadventures we've gotten into.  I've always bathed him often, ever since he was a puppy - and he's 5 years old now.
I know a lot of dog owners are opposed to bathing pets often.  I've had fellow dog owners lecture me about bathing Kitsune too often.  But I've talked to others who bathe their furry friends just as often as I do Kitsune.  The fact of the matter is that there are no set in stone guidelines for how often dogs should be bathed.  How often is too often for your dog can depend on a number of different factors - each dog is an individual!
The biggest argument against bathing dogs often is that, in some dogs, it can cause skin issues such as irritation and flaking.  Kitsune has never experienced negative symptoms despite his weekly baths, but that's not to say that weekly baths would work for every dog.  I personally feel that one of the biggest factors you want to take into account if you want to bathe your pet often is what type of shampoo you use.
I've always used high quality, detergent/soap free dog shampoos on Kitsune.  Soap free shampoos still get your pooch nice and clean, but are less drying and don't strip away as much of the furs natural oils.  You don't want to use human (even baby) shampoo on your dog because of the pH differences.  I know Dawn is a popular choice when dealing with fleas, but it shouldn't be used for regular bathing because it's very drying.  High quality dog shampoos may be more expensive than other options, but a little bit goes a long way.  Kitsune is about 20 lbs, and even with weekly bathing a 16 oz bottle of shampoo lasts him a good 6+ months.
How often you bathe your own dog can depend on a lot of different factors such as coat type, lifestyle, and human preferences.  One of the main reasons why I like to bathe Kitsune so often is because he sleeps in bed with us, and no one likes a stinky bed partner!  He's also mostly white, so dirt shows up on him easily and we spend a lot of time getting muddy/sandy at the park!  Plus the shampoo I use on him makes his fur amazingly soft, which I love.
So really what you should take from this post is that there really is no concrete number for how often you should bathe your dog.  It can depend on a lot of different factors.  If, like me, you do decide that you'd like to bathe your pet often, it's best to use high quality products to avoid drying out your pets skin.
What do you think?  How often do you bathe your own pet(s)?