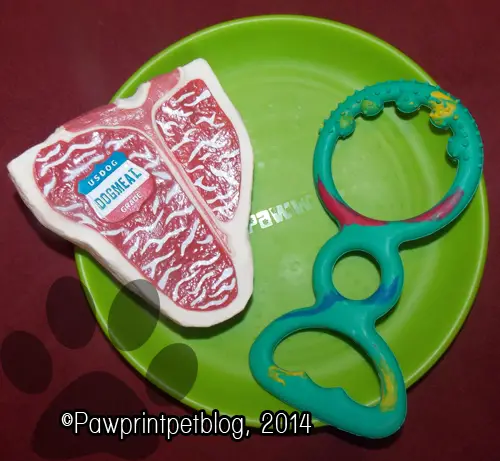 It's been awhile since Paw Print has had a giveaway!
Enter below to win our Summer Fun dog toy giveaway!  Included are the following toys:
ThrowBowl:  It's a bowl...no it's a Frisbee....It's both!  Awesome for camping or trips to the local park, this duel purpose toy can be used as a Frisbee, or the sides can be unfolded to create a bowl.  We reviewed a ThrowBowl here before (click the link to read what we thought) and actually still have (and use!) the blue one that we used in our review.  Kitsune doesn't need two, so we're giving one away.  New with tags.
Spunkeez Rubber Tug Toy:  What can I say, it's a tug toy?  Kitsune actually doesn't really like rubber/plastic toys normally so this one has been sitting around the house.  It's in new condition but doesn't have any tags.
Petprojekt Steak Toy: This toy is awesome, but I think my fiance and I get way more of a kick out of it than Kitsune does.  Again, Kitsune won't play with it probably because it's plastic and he almost always goes for plush toys.  But I'm sure some dogs would like it.  As an added bonus, the squeaker in it is really loud!
Enter via the Rafflecopter below.  Sorry but shipping is within the US only.  If you live outside the US and want to enter, I'd be willing to ship the toys to a US based animal rescue/shelter on your behalf, or to anyone within the US if you have a friend with a dog who might enjoy them.
The winner will be selected on July 22nd and contacted via email.  Thanks for looking and good luck!