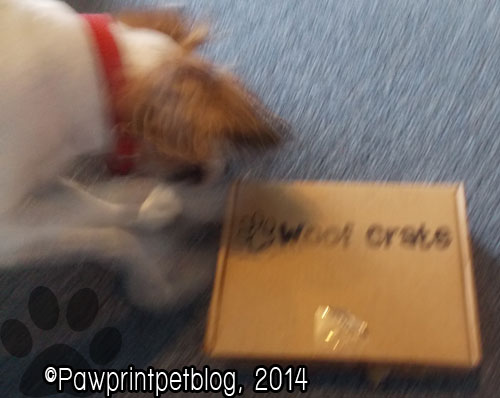 The very lucky Mr. Kitsune was recently the happy recipient of a Woof Crate dog treat subscription box!  Anyone who's been reading our blog for awhile has probably seen some of the reviews we've done on other pet subscription boxes in the past.  Our list of subscription boxes for pets is still one of the most popular posts on Paw Print!
As you might be able to tell from the picture, Kitsune was very excited when his box got here.  He couldn't even stay still long enough for me to get a good picture! 
I could understand why, once he opened his box!  Our box contained 8 (really cute!) paw print bags full of treats.  I'm sure they smelled really good to Kitsune, even through the packaging!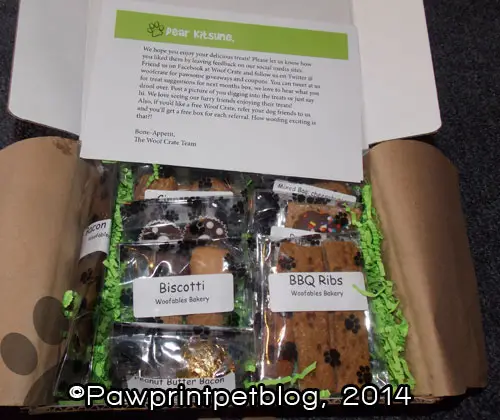 Speaking of, our treats were packaged really well.  Each package of treats had a label on it, so you know what each one is and where it comes from.  There were two inserts inside our box, one addressed to Kitsune (how cute is that!?), and another that lists the ingredients for each of the treats included in the box.  I was really happy to find the ingredients list, since Kitsune has food allergies.  Despite the fact that some of the treats were pretty large, not a single one of them was broken at all.
I'll be perfectly honest here - we received our Woof Crate a couple of days ago and Kitsune hasn't tried all the treats included yet.  I've let him try treats out of 3 of the 8 bags so far, and he's loved all of them.  I have no doubt at all that he'll enjoy the ones he hasn't tried yet too.  Here's a closer look at all the different treats we got...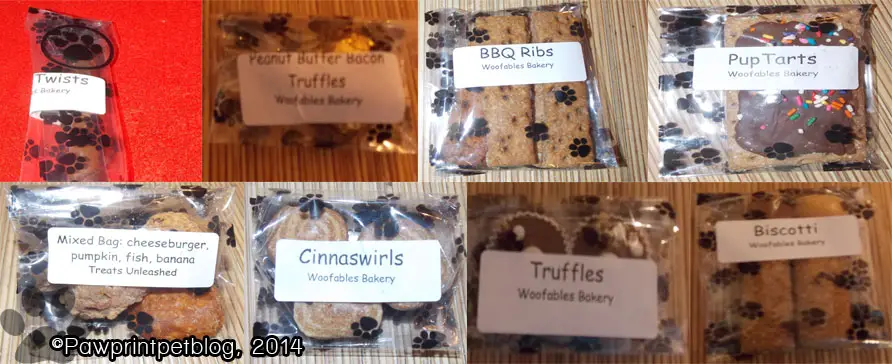 Awesome right?  They look like they could be treats for humans rather than dogs!  Woof Crate gets their treats from dog bakeries that, of course, use only healthy, dog safe ingredients.
Woof Crate costs $24.99 per month.  If you're interested in trying them out, use the promo code PawPrint to get 10% off your first Woof Crate!  The company also has a referral program - refer your friends and family to Woof Crate and for each person who decides to sign up, you get a free box of treats!  Just make sure to have your friends drop Woof Crate an email letting them know who referred them.
Although we've tried out quite a few different pet subscription boxes, Woof Crate is the first one we've tried that sends treats only.  I think it'd be great for dog owners who want to experience the fun of getting a monthly pet box, but just don't need, or want, anymore dog toys/supplies/etc.  The way the treats are presented and how unique they are make opening the box a lot of fun!  And of course what dog doesn't love trying out new treats?
This post is sponsored by Woof Crate.  We received a free Woof Crate in exchange for our honest review.  Paw Print Pet Blog only shares information we feel is relevant to our readers. Woof Crate is not responsible for the content of this article.