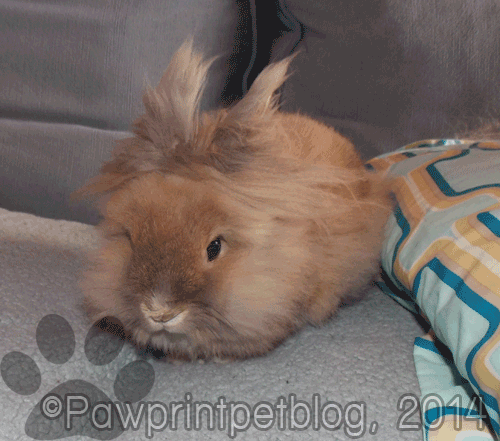 I have a long history of keeping rabbits as pets.  Growing up, the first pet I remember my family having was a huge bunny named Nibbles.  When I got older and moved out on my own, the first pet my fiance and I added to our family was a Netherland dwarf bunny we named Zeus.  Zeus was awesome.  He was a tiny little thing, but had a larger than life personality.  He had this funny habit of trying to steal food right out of people's mouths that still makes me laugh when I think about it today.  Zeus, sadly, passed away back in 2008.  Six years after his death, I still find myself thinking about and missing him. 
I've had a few pet rabbits since Zeus.  Berry Melon and Ziggy, who were both Holland lops, both unfortunately also passed away.  But I still have Barnaby, my almost 8 year old Lion head, who has been with us since we adopted him when he was only 8 months old.
Anyways, what I'm trying to get at is that rabbits, to me, have always been companion animals.  Just like other types of pets, each rabbit is an individual with their own unique personality.  Zeus used to love to play with toys.  Ziggy was an escape artist.  Berry loved being groomed and snuggled by people, and my current rabbit Barnaby loves watching tv!  Rabbits are social animals that can be litter box trained and, for the right people, can make amazing pets.
Recently Whole Foods Market, a grocery store chain that strives to sell only sustainable, natural, and organic food products, upset rabbit lovers by launching a new pilot program to sell rabbit meat in select stores.  The company claimed on their website that "For many years, lots of customers have requested that we carry rabbit. But first we needed to ensure the rabbit we sold would be consistent with WFM's high animal welfare standards. As most rabbit production is grim, we set out to develop our own set of animal welfare standards, which began a rigorous four-year process to address the welfare issues in rabbit production."  Whole Foods has, so far, said little else about the subject, despite protests at multiple store locations and public outcry.
Rabbits are the third most popular pet in the United States, after only cats and dogs.  Rabbit lovers argue that selling rabbit meat in stores is akin to selling dog or cat meat for public consumption.  On the other hand, supporters of the pilot program point out that other types of animals, such as pigs, cows, etc, are intelligent beings as well, and no one protests the selling of their meat.  Rabbit meat has been consumed by humans for countless hundreds of years, although it isn't currently a very popular protein source in the US probably due, at least in part, to rabbit's popularity as pets.
What do you think?  Comment below!  Do you agree that selling rabbit meat is unacceptable, due to their popularity in this country as pets?  Or do you feel that it's an okay practice, as long as the animals are treated humanly?
For many years, lots of customers have requested that we carry rabbit. But first we needed to ensure the rabbit we sold would be consistent with WFM's high animal welfare standards. As most rabbit production is grim, we set out to develop our own set of animal welfare standards, which began a rigorous four-year process to address the welfare issues in rabbit production. As we have done in the past, our hope is that our standards will be a model for industry change. - See more at: http://media.wholefoodsmarket.com/news/rabbits#sthash.aZcCHWp7.dpuf
For many years, lots of customers have requested that we carry rabbit. But first we needed to ensure the rabbit we sold would be consistent with WFM's high animal welfare standards. As most rabbit production is grim, we set out to develop our own set of animal welfare standards, which began a rigorous four-year process to address the welfare issues in rabbit production. As we have done in the past, our hope is that our standards will be a model for industry change. - See more at: http://media.wholefoodsmarket.com/news/rabbits#sthash.aZcCHWp7.dpuf