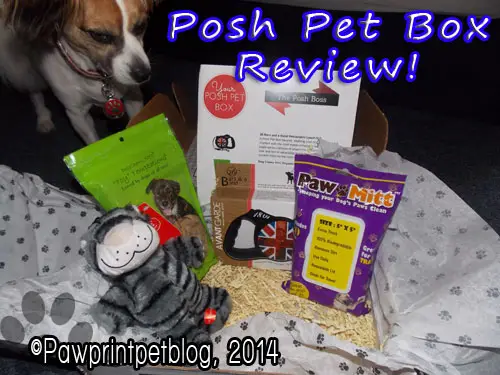 Kitsune is one lucky pup!  He always gets so excited when we get mail, probably because 86% of the time it's for him!  As you may be able to tell from the picture, last week we had the opportunity to try out a Posh Pet Box.  You know we love pet subscription boxes here at Paw Print, and we've gotten to review more than a few types of boxes over the years.  So what makes Posh Pet Box special, and what did Kitsune think of his?  Read more to find out!  
Posh Pet Box is a newer pet subscription box company.  When signing up, you can choose between three point packages - Plain Posh, Picky Posh, or Posh Boss.  Prices range from $29 to $49 a month.  You can select to have your box come with surprise items, or select your own.  Either way, Posh Pet Boxes included items such as designer dog clothes, travel items, grooming supplies, all natural treats, high quality toys, and more.  How many items/what items you receive each month depends on what point package you selected.  If you ever decide your pup needs more swag, you can upgrade your subscription.
So what did we receive in our Posh Pet Box?  We got...
26 Bars and a Band Retractable Leash:  Retail value: $30. I know not everyone is crazy about retractable leashes.  I think they are fine to use, as long as you do so responsibly.  I have one that I use pretty often when I take Kitsune to the park.  I would never let Kitsune wonder around off leash, but do like using retractable leashes to give him a bit more freedom to explore.  The 26 Bars and a Band leashes feature sleek, unique designs.  The leash I received has an all nylon belt, which I much prefer to the retractable leashes that have cords instead.  I've only used this leash a few times so far, but it seems sturdy and the locking button works as it should.  The size small leash is for pets up to 28 lbs.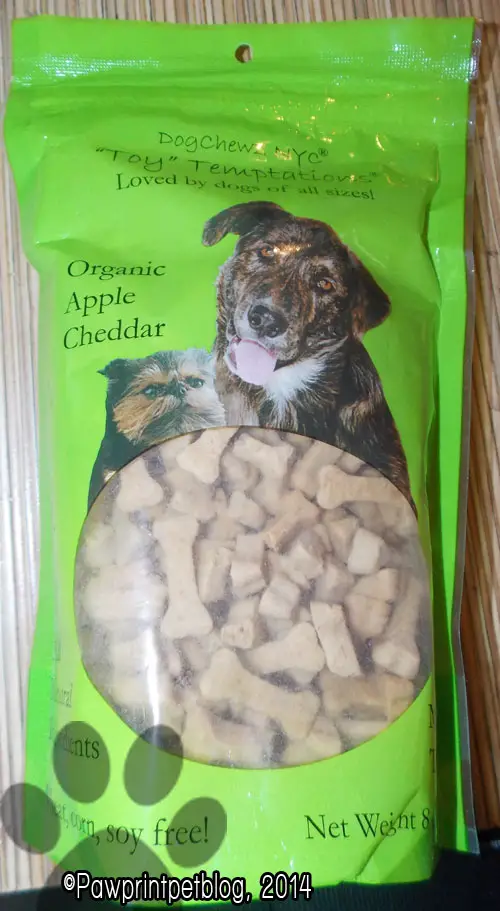 Dog Chewz NYC Organic Apple Cheddar Treats: Retail value: $10.99.  Anyone who is even slightly familiar with my blog probably already knows that Kitsune loves treats!  What dog doesn't right?  What I like is that these treats are wheat, soy, and corn free, and made with organic ingredients.  They are pretty small so you do get quite a few of them in an 8 oz bag.  I think Kitsune wishes they were a bit bigger, but they are the perfect size to use as training treats.  I've been using them as training treats and giving them to Kit randomly throughout the day for about a week now, and still have about 3/4ths of the bag left.  Kitsune seems to like the flavor.  He doesn't go completely crazy for these like he does for some treats, but still he does seem to enjoy them!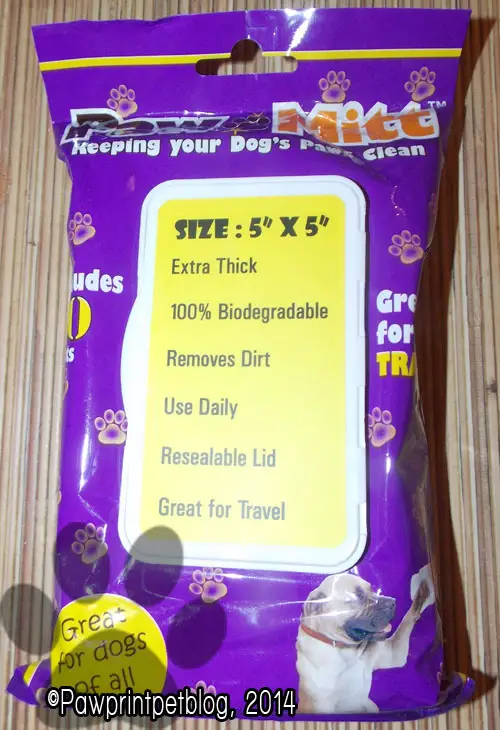 Disposable Paw Mitts: I couldn't find this exact product on Amazon, but the insert that came with my Posh Pet Box says that they retail for $6.99.  These disposable paw wipes came in a pack of 20.  They are biodegradable, and work really well!  I used one of these on Kit's paws a few hours after I had given him a bath, and was really surprised how much dirt they removed from his paws.  I've used baby wipes and other brands of pet wipes to clean Kitsune up between baths before, but what I really like about this brand over others I've tried is that the mitts are folder over and have a pocket you can put your hand into.  Especially great for times when your dog gets into something especially gross that you want to avoid touching while you clean them up.  The mitts are thick and clean well, without being too wet or soapy.
Petlou Colossal Plush Tiger:  I couldn't find this item on Amazon either, but the Posh Pet Box insert says it retails for $9.39.  I didn't include a picture of this item because I actually got a video of Kitsune playing with it (see below)!  This is pretty much your typical plush squeaky toy - Kit's favorite type of toy.  Like most plush squeakies, he loves this guy.  This isn't the most durable toy in the world.  Kitsune's been playing with it for a week or so and already it has some loose threads, a hole in its head, and one of its arms is very close to coming off.  I don't feel like Kit is exceedingly rough with his toys but do keep in mind that he plays with them for sometimes hours a day, so he might put them through more abuse quicker than your average dog.  He's been having a lot of fun with his new toy and that's what matters!  Plus we've been getting a kick out of watching him carry it around, because Kitsune may love his toy cat, but he doesn't like real cats.  Here's a video of him with his toy...
Overall we were impressed with Posh Pet Box.  I like that they sent full size items rather than sample sizes.  There was a good verity of items - treats, a toy, a grooming product, and a leash.  I really like that they give you the option to select your own items if you don't want a surprise box.  I think that'd be awesome for owners who have dogs with allergies, or dogs who just can't have, or don't like, certain types of products.
As a special promotion, the first 20 people who use the code PAWPRINT250 at checkout will get $10 off their first Posh Pet Box subscription, and will also receive a free surprise item selected by the Posh Pet Box team!  After the first 20 people, everyone else who uses the code will receive $5 off their first subscription.
This post is sponsored by Posh Pet Box.  We received a free Posh Pet Box in exchange for our honest review.  Paw Print Pet Blog only shares information we feel is relevant to our readers. The Posh Pet Box team is not responsible for the content of this article.