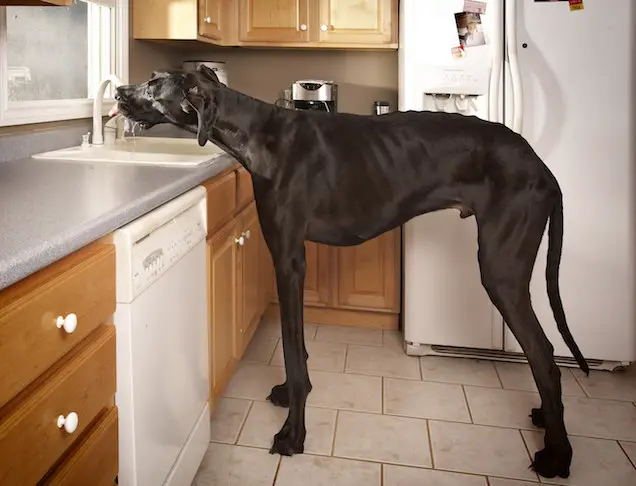 Standing a whopping 44 inches tall at the shoulder, Zeus the Great Dane's size is his claim to fame.  The massive pooch measures in at 7 feet, 4 inches tall when standing on his hind legs.  He weighed in at 165 lbs and went through a 30 lb bag of dog food every two weeks.
Unfortunately Zeus' impressive size may have been a contributing factor to his early demise.   Zeus, who would have turned 6 this November, died last week.  His owners have stated that his death was due to symptoms of old age.
Great Danes normally live an average of 6 - 8 years, although they can sometimes live up to 15 years.  In general, the larger a dog breed is, the shorter its average lifespan will be.  Studies have shown that large dog breeds seem to age faster.  Of course lifespan can also be impacted by factors such as genetics, quality of care, and just good old fashion luck.
Zeus' life may have been short, but it does sound like it was happy.  In a Guinness World Records Meet the Record Breakers video (see below), one of Zeus' humans describes him as laid back and gentle.  Zeus was a therapy dog, and according to Michigan Live, one of the things Zeus' owners will miss most about him is the joy he brought to others.