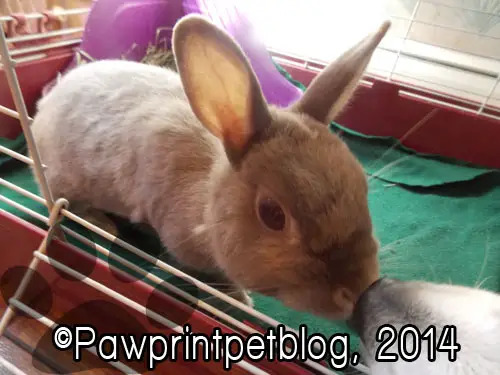 Happy Friday everyone!  On my picture post from this past Wednesday I eluded to Miss Poppet, our newest addition.  She's actually been here since the first day of fall, September 23rd.  I was going to post about her sooner, but then Haku passed away on the 24th and I thought it more appropriate to post about him at the time.
Poppet started out as our foster rabbit.  But I'm horrible at fostering I guess, because to date I have adopted every pet I attempted to foster!  Anyways, no big surprise, I fell in love with Poppy and ended up officially adopting her just 5 days after I started fostering her, on the 27th - which coincidentally was also International Rabbit Day!
Poppet has quite a story for such a little critter!  She was originally found by police during a raid on a home in the city.  She was being kept in a disgusting 10 gallon aquarium and didn't even have so much as water in the tank with her.  She was confiscated by animal control and ended up being cared for in a dog/cat shelter.  They cleaned her up and did their best to care for her, but poor baby was very stressed living in the shelter.  She wasn't eating much, and was labeled as aggressive because she started lunging at the shelter staff when they put their hands in her cage.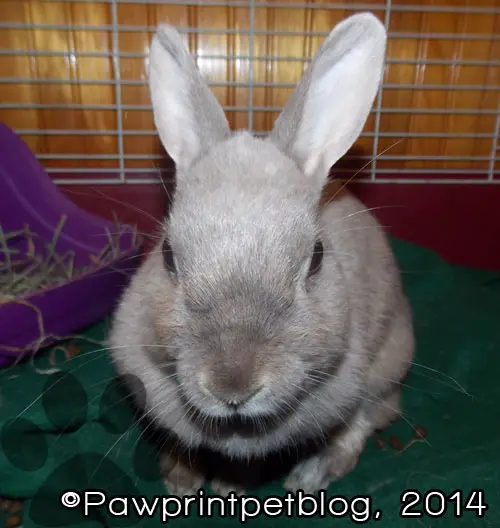 Because she had been there for awhile with no adoption inquiries, and because of how stressed she was, the shelter gave her one more week to either be adopted, fostered, or pulled by a rescue.  If she wasn't out of the shelter by the end of the week, she was scheduled to be euthanized.
Originally when I was asked to foster her, I said no.  Mostly because I know my track record with fosters, and I didn't think I wanted any more rabbits.  But I couldn't stop thinking about her, and a few days later decided to foster her.  The rest is history, as the saying goes, because she's now the newest member of our little family.
It was so funny when I went to the shelter to pick her up.  There were so many giant, loud dogs and cats there, but it was this tiny little bunny who had the big red warning sign on her cage.  She's been a complete sweetheart since she got here.  She doesn't mind when I pick her up, which is rare for rabbits, and loves it when we pet her.  I think she was just really stressed out at the shelter and that's why she was acting out.
I don't really know where I got the name Poppet for her.  I was cleaning her cage one day and randomly called her Poppet.  I thought it'd be a cute nickname to call her until we came up with a name for her, but Poppet just stuck and now is her name.  We call her Poppy for short.
Poppet was just spayed last week.  My plan right now is to give her a month to heal up as well as to make sure she's healthy.  After that, I'm going to attempt to bond her with Barnaby.  I'll keep you all updated on how it goes.  Right now she's only been here for a week, so all that can wait.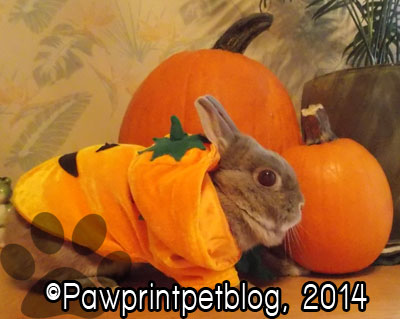 As of today she's 2.8 lbs.  She doesn't really look it in pictures, but she's really skinny.  I'm sure we'll get that fixed in no time!  The vet estimated her to be around 3 years old.  Since we have no idea when she was born, we're going to celebrate her birthday on Sept. 23rd, the day we brought her home.  I haven't been able to take any really good pictures of her eyes, but they are really unique.  They aren't the normal brown, and aren't the pink/red color that albino rabbit's have either - but look like something in between those two colors.  They almost look lavender in certain lighting.
I'm going to get her added to the site under the "My Pets" section.  I wanted to formally introduce her because I'm sure you'll all be seeing more of her, especially once I start attempting to bond her and Barnaby.  Oh, and don't worry about her being lonely until then, she's been getting plenty of attention from the humans, and Kitsune rabbit whisperer has already won her over!