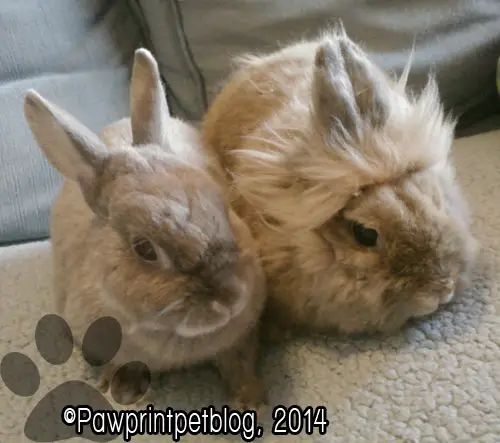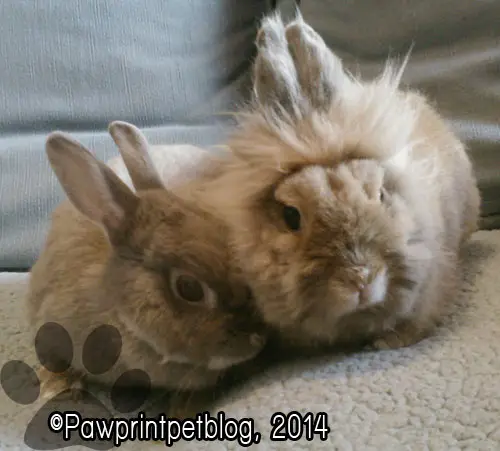 Here come the words...
As you can probably tell, I've started the process of attempting to bond Barnaby and Poppet.  It's been almost a full month since Poppet was spayed and, other than needing to gain some weight, she got a clean bill of health from the vet.  I decided to start introductions a bit earlier than I had originally planned since Poppet and Barnaby seemed so interested in each other.  The two of them are now living in the same room, so they can get used to each other without actually interacting all the time.  Two or three times a day I let them spend time together, but only for about 5 - 10 minutes at a time.  I'm always there closely supervising and doling out the treats.  I try to keep bonding sessions as positive as possible and we always end them on a good note.
So far things are going well.  It's been about 2 years since Barnaby has been around another rabbit, and I have no idea how long it's been for Poppet but I'd guess she probably hasn't seen another rabbit since she was weaned.  I think they're both going to have to get used to having another bunny around.  So far there's been a bit of your typical humping and hair pulling, but no major aggression and as time goes on they seem to be really starting to enjoy each others company.  They haven't been grooming each other too much yet but have spent quite a bit of time snuggled up next to each other.
I'll keep you all updated!  I'm just planning on letting them set the pace for what happens next, so I have no idea right now if they'll be separated for awhile or living together soon.
My Wordless Wednesday posts haven't been very wordless lately - sorry if that bothers anyone!  I've been so busy lately and haven't had time to post here as often as I'd like too - so when I do get a chance to post, it's hard not to have something to say about my pets!