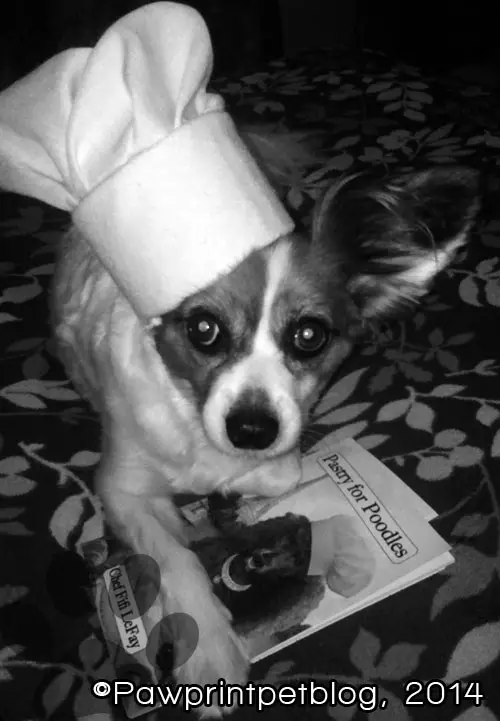 Happy Friday!
For the past couple of days its been rainy and cold where we live, so Kitsune and I haven't been spending much time outdoors.  No problem - I actually enjoy storms, and Kitsune has plenty of indoor activities to keep him busy.  And what better way to spend a rainy afternoon than snuggled up with a good book?
We recently received a copy of Pastry for Poodles, the first book in a series of 'cookbooks' written for dogs, by dogs!  Cookbook in quotes because the recipes in the book are written more for entertainment purposes than as an actual cooking guide.  With measurement units such as "paws", "scoops", and "swipes", temperature settings of "PRETTY HOT" and "REAL HOT", and time measured in increments of walks, naps, and belly rubs, humans might find it a bit difficult to actually make any of the recipes in the book (although the author has!), but the book is sure to complete its main task - keeping dog lovers entertained!
Kitsune, being a French breed himself, was a fan of Pastry for Poodles.  Penned by Chef Fifi LeFay, a French poodle, each of the six recipes included a pup-tastically witty take on French culture, be it a historical reference or some French phrasing.  Chef Fifi's personality really popped - you can almost picture her hosting her own cooking show!  My favorite part of the book was probably the measurements of time, as mentioned above.  If a dog where to really cook, I can totally picture them doing things like napping, or enjoying a nice long walk, in between cooking steps.
Pastry for Poodles is part of The Chow Network Books series.  The next book, Barbeque for Bulldogs, should be released soon as well.  You can learn more about the series by clicking The Chow Network Book link.  Pastry for Poodles is currently available in paperback on Amazon (link above), and also on Kindle!
And sorry for the shameless plug here, but if you're looking for a dog treat recipe book also be sure to check out my book, Cooking with Canines!
Thanks for reading!  I hope everyone has an awesome weekend!