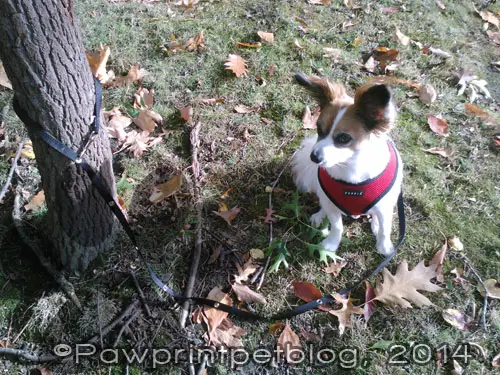 Hello hello!  Happy Monday - or whatever day it happens to be as you're reading this!
I seem to be having some good luck lately!  I posted back in September when we won an awesome pet blanket.  Not too long after, we found out that we also won the amazing ZoePhee's SnapLeash giveaway.  We received our SnapLeash - the black 5/8'' version - a couple of weeks ago, but I'm just now getting around to posting about it.
If you want to read an awesome SnapLeash review be sure to check out ZoePhee's review!  I don't enter many giveaways these days since our house is so full of pet supplies already.  But after reading ZoePhee's SnapLeash review I just had to try to win one!  It reminded me a bit of the Pick Pocket Leash that I reviewed way back in 2012.  Mostly because both leashes have the ability to clip their handles around things like trees, etc., if you need both your hands for something.  This feature was probably my favorite thing about our Pick Pocket Leash.  With the SnapLeash, you get even more flexibility because there are clips on both ends, and grommets along the length of the leash that allow you to customize the length, or clip it around a wide variety of objects.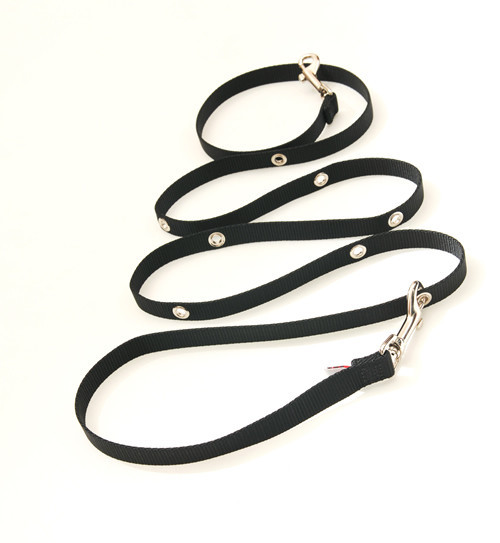 If you have two dogs, you can use the SnapLeash to walk both of them at once.  You can also clip one end of the leash to your belt loop, or wrap the leash around your waste, for hands free dog walking.  I haven't had the opportunity yet to use our leash anywhere other than our local park, but I think it would be awesome for hiking or camping.  You could use it to tether your dog while you're doing stuff around the campsite, or when you need to take a break during a hike.  Just remember that dogs shouldn't be left tethered unsupervised.
Probably the only thing I'd say that I don't like about the SnapLeash is that I don't find it as comfortable to hold as the leash I normally use.  I've been using Lupine leashes for our regular walks pretty much since Kitsune was a puppy, and I really like the padded handles on them.  Since the SnapLeash is so versatile and can be adjusted, it doesn't have one area on the leash that's the designated handle.  So you can't really blame them for not having a handle that's comparable to Lupine's padded handles.  Holding the SnapLeash isn't horrible, I think maybe it's just not what I'm used too.  And it doesn't matter too much anyways, since I'll most likely take advantage of the leashes versatility and use it as a tether (supervised, of course), or when I need to walk Kitsune hands free.
If you're looking for a versatile, all around great leash I'd definitely recommend you look into SnapLeash!  Kitsune and I give it two paws up!  It comes in black, red, and blue, and in different widths as well (5/8 and 1 inch).  It really is like having 7 leashes all in one (because of the customizable length) and I love that you can use it as a tie out, to walk your dog hands free, or to walk two dogs at once.  I'm sure we'll be making good use of our SnapLeash for years to come.