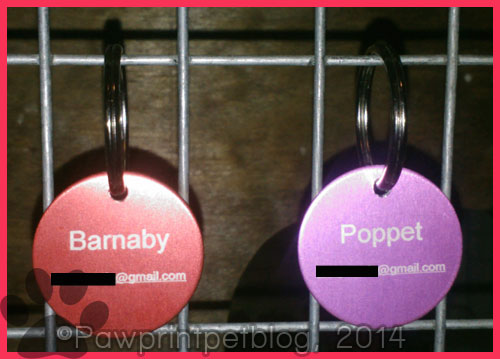 The awesome people over at Name Tag Wizard recently asked me if I'd like to try out their Pet Name Tags.  Anyone who has ever seen Kitsune's collar, and harness, could probably tell that I have a thing for pet tags.  Kitsune currently has a grand total of 7 (yes 7) tags - 3 on his collar and another 4 on his harness.
I figured that 7 tags is probably enough for poor Kitsune, and had Name Tag Wizard send me the two tags pictured.  They are both the Circle Name Tag, one in red and one in pink.  I got them with my rabbits' names on them, thinking that they'd look really cute attached to the rabbits' cage, and that I could also attach them to their carrier when we travel.
Other than the circle tags that I got, Name Tag Wizard has 5 other pet tag designs.  If you're interested, they also sell things like name tags, luggage tags, and buttons.  Although the name tags/luggage tags aren't designed specifically for pets,   I could totally picture them being used for pets.  The name tags would look adorable attached to a pet's cage/tank/pet room door/etc.  The luggage tags I was thinking would also work well if you need tags for your pet's travel cage or something like that.
The first thing I noticed when I unpacked my two tags was how lightweight they are.  They are lighter than the tags I've purchased for Kitsune.  I think these would be great for small dogs, or cats, or in any instance when you want to use a tag but are concerned about adding a lot of weight to your pet's collar.  I almost never put harnesses on my rabbits, but I would have no issues attaching these to my rabbits' harnesses - and my rabbits only weigh 2 lbs each!
Since I know that most people would purchase these to use for a dog or a cat, I tested them by attaching them to Kitsune's collar for a week.  The picture above is the tags after spending a week on my very rambunctious dog's collar.  They still look like new - no scratches or fading or anything like that.
The tags are double sided as well, which I thought was cool.  The same thing is printed on both sides.  The Name Tag Wizard representative I talked too mentioned that a lot of people put their email addresses, rather than phone numbers, on tags now, which I thought was a cool idea.  I went with my personal email address mostly because I've had the same email address for over 10 years now, but end up changing my phone number much more often.  This way I figured my tags will be relevant for longer, instead of having to replace them every time I update my phone number.
So there you have it, my adorabuns now have their own tags.  If you're looking for cute, lightweight tags for your pets be sure to check out Name Tag Wizard!