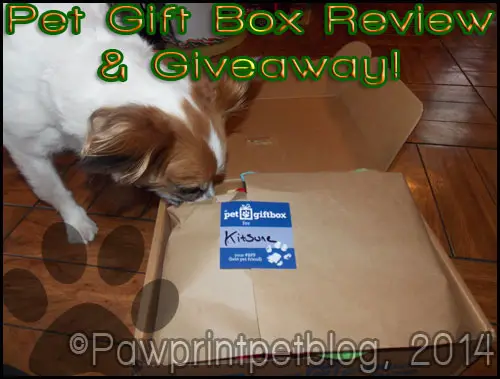 Hello hello!  As you can probably tell from the title of this post, this is going to be another pet subscription box review!  These reviews have gotten pretty popular on Paw Print!  If you are thinking of signing up for a pet subscription service, you can always take a look at our list of subscription boxes for pets to get an idea of what companies are out there.  We always make sure to link to any posts when we've written reviews for any of the companies listed, that way you can see some examples of what the boxes include!
Recently Kitsune received a box to review from the awesome people over at Pet Gift Box!  Just look at how excited he was when his box got here...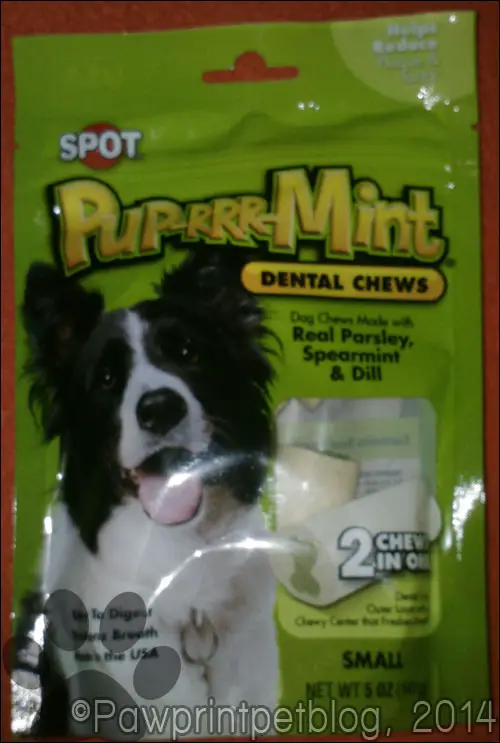 He's so funny - I don't know how he always seems to know when boxes are for him!  People have told me that he probably just smells treats inside the box, but I'm not fully convinced that's what's going on.
In the case of our Pet Gift Box, there was some Pup-rrr-mint Dental Chews.  We got a 5oz bag.  They are doggy dental chews that have ingredients like parsley, spearmint, and dill to help freshen your dog's breath.  These retail on Amazon for $6.99.  They are made in the USA and luckily didn't include any poultry products, so Kitsune got to have them (For those that don't regularly follow my blog, Kitsune is allergic to poultry)!
When I opened the package I though the treats smelled really good!  Kitsune wasn't as convinced at first.  The first time I gave him one of these he carried it around the house for hours, but wouldn't eat it.  Eventually he did figure out that it was food!  Maybe he just wasn't used to the smell at first?  Whatever the reason, he only did that with the first treat.  The others I gave him he ate right away, and seemed to enjoy!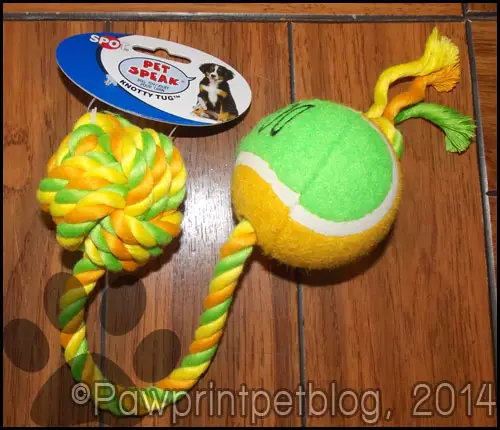 The Knotty Tug combines the fun of balls, and rope tug toys.  Kitsune is a huge tennis ball fan, and he's not above a good round of tug every now and again, so he's been really enjoying this toy.  I couldn't find the Knotty Tug on Amazon, but in the insert that came with our Pet Gift Box it says that this toy retails for $8.59.
It seems to be a well made, sturdy toy and so far is holding up well!  Kitsune likes to hold onto the end of the rope and swing the toy around, it's really cute!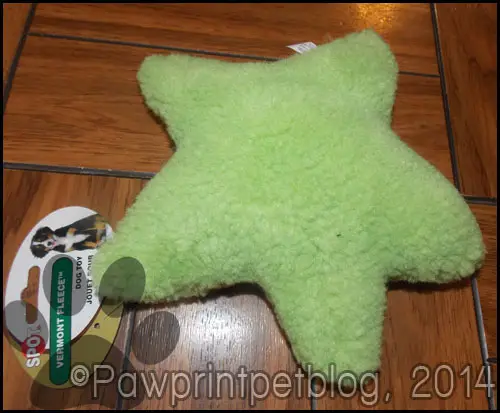 Next we got a Vermont Fleece Star.  They retail on Amazon for $9.94.  I've always wanted to get a toy like this for Kitsune!  Can you believe that, with all the toys he has, he's never had a fleece toy like this before?  They just look so snuggly to me, and Kitsune does enjoy a good snuggly toy to nap with.  Plus this one has a squeaker in the middle, making it pretty much an instant hit with Kitsune!
We also got a Black-Eyed Cuties latex dog toy.  I couldn't find this one on Amazon either, but the Pet Gift Box insert says that it normally costs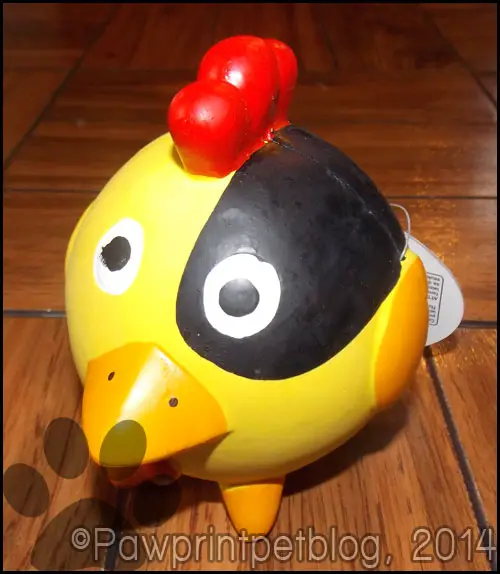 $6.99.  Ours looks like a little chicken, or maybe a rooster.
I hate to say it, because it really is an adorable toy, but Kitsune has just never been a fan of toys like this.  I don't know why, but whenever I get him toys made out of latex, or rubber, he just doesn't really want much to do with them.
But of course that isn't Pet Gift Box's fault, and I'm sure that other dogs would really enjoy this toy!  I think I might send it to my sister to see if her dog likes it, or maybe donate it to our local shelter.  Silly Kitsune.  That's ok, he has plenty of other toys to play with an we'll find a dog that will appreciate this one.  That's one great thing about Pet Gift Box, they sent us so many toys that it really didn't matter at all that one of them,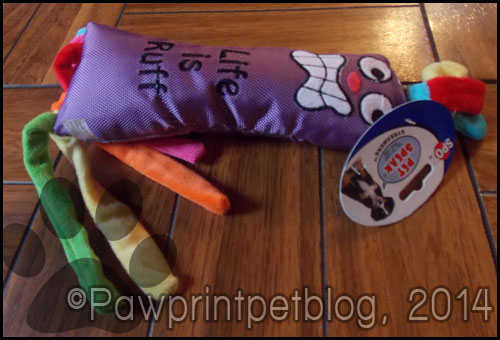 out of the six, was one that Kitsune didn't like!
Moving on, next we got a Pet Speaks Streamers toy.  The insert says that this one is sold for $9.39.  This toy does have a squeaker, making it another hit with Kitsune.  He actually has another toy that is very similar to this one, but it's just a red rectangle and doesn't have the silly face and streamers on the ends.  This toy is bound to put a smile on owner's faces, as well as be fun for their pups!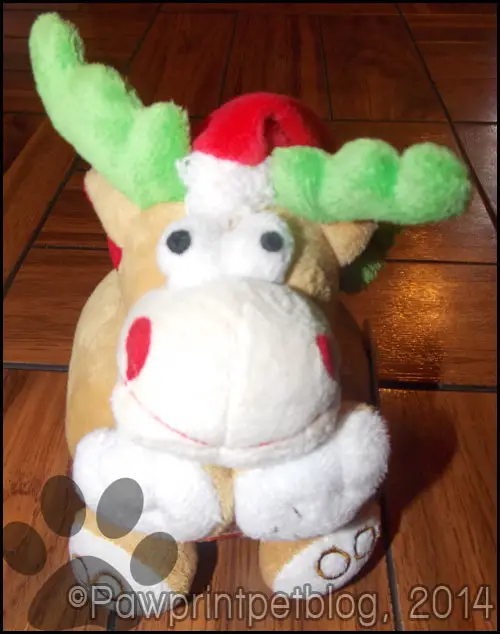 I saved the next two toys for last just because I personally thought they were the most fun.  They are both holiday themed, which is awesome since Christmas is so soon!
The first holiday themed toy we got was a Plush Holiday Chubz.  This guy retails for $7.89.  He looks like a reindeer, complete with a little Santa hat on his head!  The cool thing about this toy is that it doubles as a plush ball.  It's great for playing ball with your pup in the house, especially on those cold winter days!  Kitsune has been playing fetch a lot with this toy, and because it's so soft I don't worry as much about the possibility of things getting broken.
Last, but certainty not least, we got a Holiday Babbler, which retails on Amazon for $9.30.  Our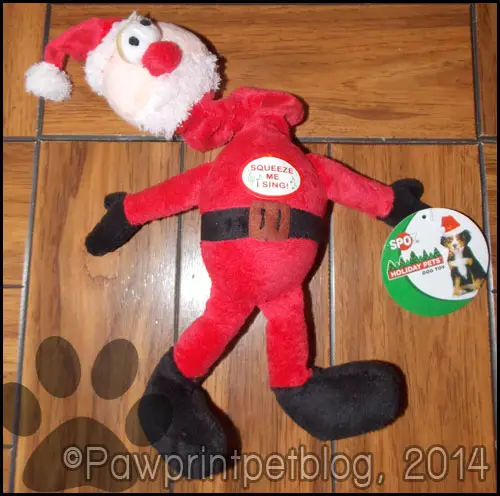 Babbler is a toy Santa Clause.  This toy is aptly named because, when squeezed, instead of having your typical squeaker it actually talks and sings!  Kitsune seems to get a real kick out of this, and has spent quite a bit of time playing with his Santa toy.
Whew that was a long review right?  It's because there was so much stuff in our Pet Gift Box!  We've reviewed a lot of pet subscription boxes in the past, but I don't think we've ever tried one that included this many toys!  Kitsune is a very happy pup!
Oh, and one thing I forgot to mention, Pet Gift Box isn't just for dogs!  They also cater to cats as well!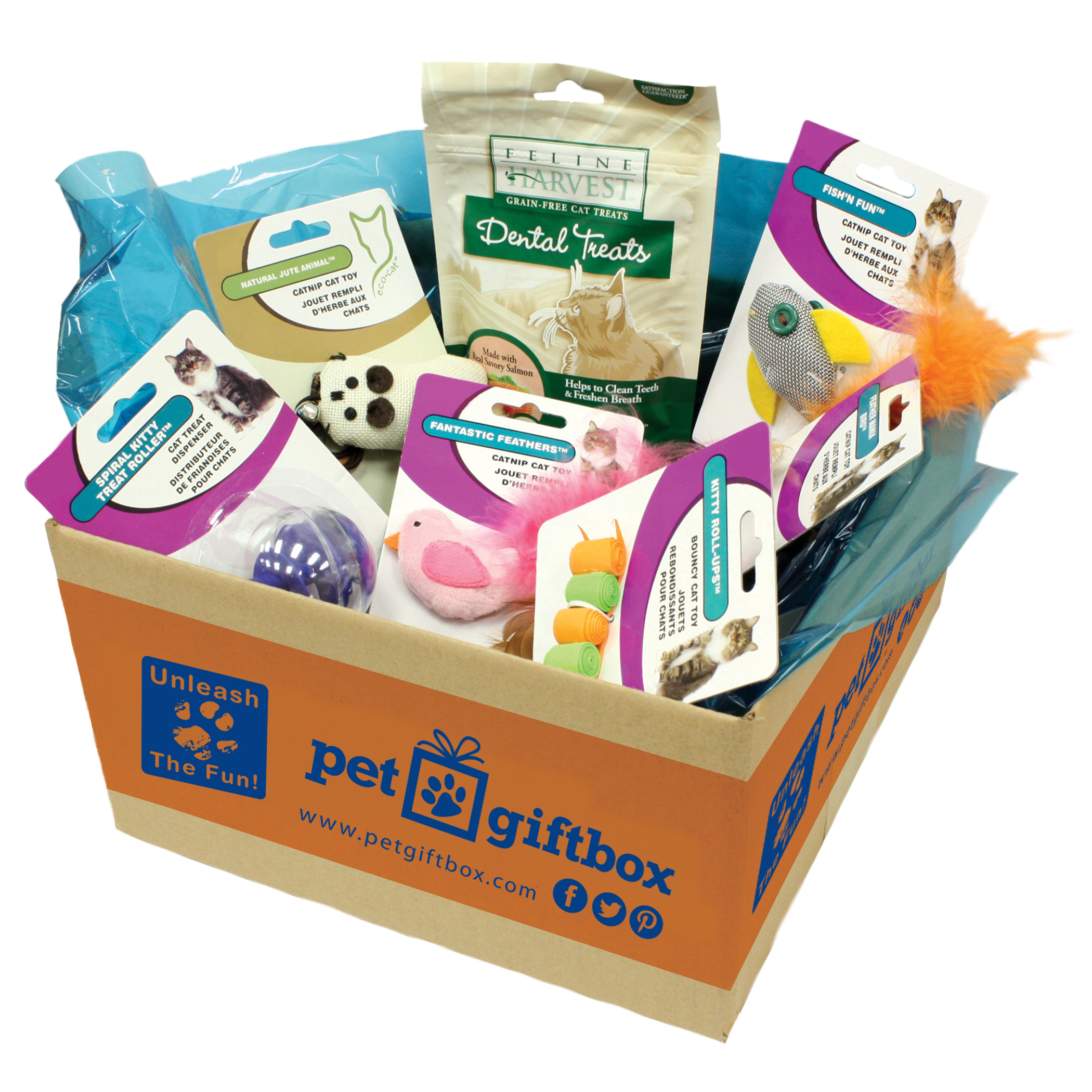 Pet Gift Box is just $17.99 per month if you sign up for a subscription!  Awesome considering that the contents of our box, if you add up the individual prices, comes to almost $60!  That's an incredible savings.  A portion of all proceeds is donated  to America's VetDogs, an organization serving the needs of veterans with disabilities.
Want to try out Pet Gift Box for yourself?  For a limited time (this coupon expires on Dec.31st) you can use the code pawprint to get an awesome 25% off your order!  Pet Gift Box would make an amazing Christmas gift for your furry friend.
Speaking of Christmas, Pet Gift Box is currently hosting a contest to win a free box!  Instructions can be found here, but basically to enter you just have to upload a holiday photo of your pet to Twitter or Instagram with the hash-tag #holidaytailz, or post your photo on the Pet Gift Box Facebook page.
The kind people at Pet Gift Box have also allowed me to host a giveaway here!  Like usual, you can enter via the Rafflecopter below.  The contest will end on December 10th, and the winner contacted via email!
a Rafflecopter giveaway

Thanks for reading, and good luck in the contests!