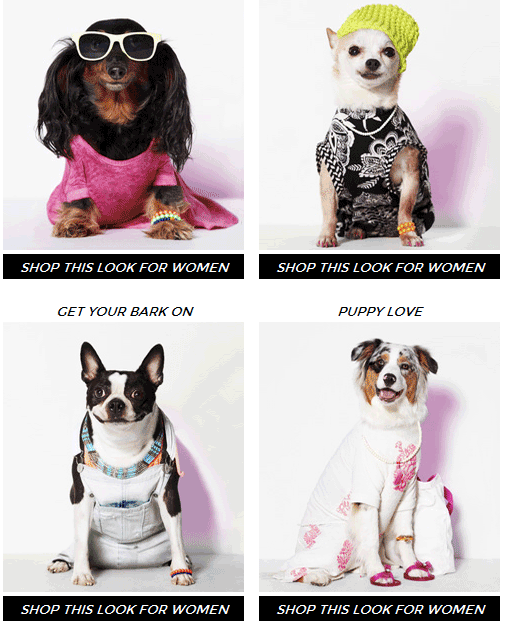 Remember back in April when I wrote about American Beagle, a dog clothing line by American Eagle Outfitters that started out as an April Fools Day joke?
American Eagle used the prank to raise $100,000 for the ASPCA, and ended up receiving so much attention from the campaign that they decided to turn their prank into reality!  That's right, American Eagle has gone to the dogs!  American Beagle is just a joke no more, and you can visit this site to browse their current doggy designs.
Currently, there are 9 dog items for sale, ranging from dog beanies with sayings such as "Woof" and "Hump Day" on them, to more traditional dog jackets and sweaters. 
What do you think of American Beagle's current selection?  I guess American Beagle might not really be Kitsune's style.  I think he'd look cute in their red puffer jacket, but that's probably the only item I'd consider for him.  The sweaters aren't really our style, and the hats look to me like they'd be more of a novelty item than a practical part of your dog's outfit.  It looks like the general population might agree with me.  I noticed that the puffer jackets, and one of the sweaters, have some reviews posted, but currently there aren't any for the beanies.
Make sure you check out the sizing if you're thinking of ordering anything from the American Beagle line, as a lot of the reviews I looked at were from people who had issues with the sizing.  On the plus side, it does look like some of the prices on the dog items have decreased.  I'm not sure if they are currently on sale, or if the price drop is permanent.
I wonder if American Eagle will release more dog designs in the future, or if this is going to be more of a novelty line?
Comment below!  Do you dress your dog up in clothes?  Would you buy any of the current items in the American Beagle line for your pup?