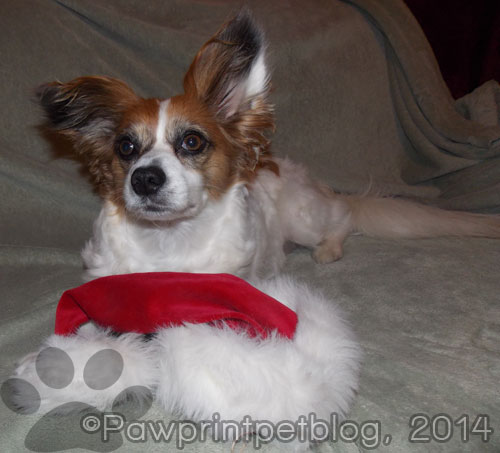 The Christmas countdown is on!  How's everyone doing on their Christmas shopping so far?  I think I'm done getting stuff for all the pets, but haven't even started shopping for my fiance yet!
I know many of you, like me, are probably done shopping for your pets already.  I really wanted to get this post out sooner but unfortunately got a bit behind on my blog.  It's been a crazy month!  Anyways, if you're not quite done your holiday shopping and need a few ideas of what to get your dog this Christmas don't worry, Kitsune is here to help!
We've been doing these top 10 lists for a couple of years now.  If you'd like, you can take a look back at Kitsune's top 10 lists from 2010, 2012, and 2013.  Some of the things we list this year might be items that have shown up in past year's lists, or that you've already seen mentioned or reviewed here before.  The items on this list were essentially selected by Kitsune himself!  I picked 10 of the things that I feel he's enjoyed most in 2014.  Like past years, this list isn't really in any particular order.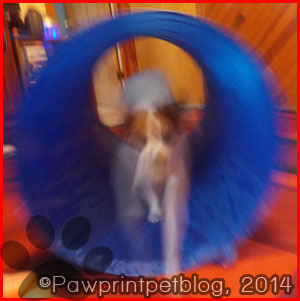 Agility equipment: For Christmas last year, Kitsune got this Kyjen starter agility set.  We've had a lot of fun with it over the past year!  The weave poles and jump work best outdoors, so you can stick them into the ground.  But we've used both the tunnel and the pause box indoors.  Using them indoors has been a good way for me to curb some of Kitsune's energy when the weather is bad outside.  Agility in general can be a great way to bond with your dog, and is great mental and physical exercise!  If you don't want to purchase agility equipment, you could try making your own.  I've seen some really creative homemade equipment!  Or you could just purchase one or two items rather than a whole set.  Kitsune's favorite is the tunnel!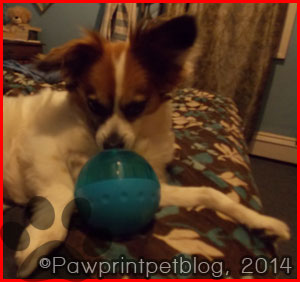 Interactive Treat Toys: The ball Kitsune is playing with in that picture is an IQ Treat Ball.  We've got a lot of use out of our IQ Ball over the past year, but interactive toys in general are awesome!  In fact, we love them so much that this year Kitsune will be getting a Tug-a-Jug treat dispensing toy.  I work from home, so am always looking for ways to keep Kitsune occupied while I work.  Most dogs love food, and high quality treat dispensing toys keep them busy, dispense treats, and give dogs a great mental workout!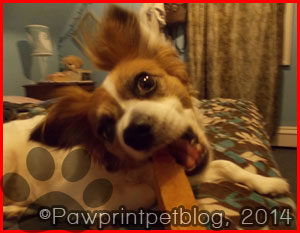 High Quality Chews: Speaking of keeping your dog busy, nothing is as basic as dog chews!  Chewing on high quality chews not only keeps dogs busy, but can help keep their teeth clean too.  I know I've mentioned them here before, but Himalayan chews are one of Kitsune's favorites!  They last a long time, as far as treats go, and are much healthier than some of the other chew options out there.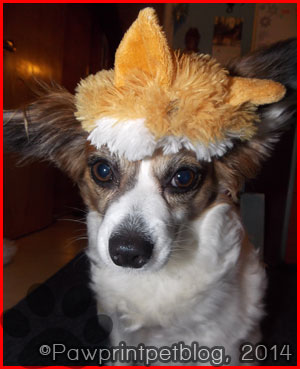 Stuffing Free Toys:  I know a lot of dogs make short work out of plush toys.  De-stuffing them seems to be a common doggy hobby.  Kitsune is normally pretty good with his plush toys, but even the best of them eventually start to wear out.  Kitsune doesn't purposefully break them open to destuff them, but once they start getting holes in them he'll often take that as a good opportunity to spread toy guts all throughout our apartment.  I still give him plush toys, and just check them often for holes, but stuffing free toys are awesome!  I can see them being particularity awesome for dogs who like to destuff toys.  Kitsune seems to really like the floppy nature of these toys.  He likes to pick them up and shake them around, and we sometimes use them as tug toys as well.  The toy pictured is a Skinneeez fox.  Spoiled Kitsune has a couple of other stuffing free toys as well.
Balls: What dog doesn't like balls?  Tennis balls seem to be to 'go to' ball for most dogs, and Kitsune loves them, but lately he's also been a big fan of plush balls.  They combine some of his favorite things, plush toys, squeakers, and balls!  I like them because they are soft, and I don't have to worry as much about things getting broken when we play ball in the house.  Plush balls are perfect for an indoor game of fetch when the weather is too bad to play outdoors!  Kitsune had a Christmas colored plush ball that he played with for a couple of years, and when that one finally wore out we replaced it with the plush soccer ball you see pictured.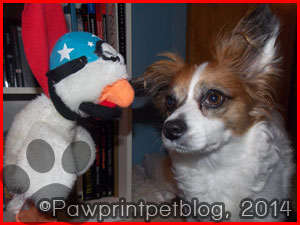 Stunt Pilot Chicken: The next couple of picks are going to be a bit more specific.  This Stunt Pilot Chicken has definitely been one of Kitsune's favorite toys over the past year.  It's looking a bit beat up, and might need to be replaced soon, but I can't complain considering the amount of fun Kitsune's had with it.  It has an elastic inside so you can fling it further than normal, and it makes really funny chicken noises rather than having a traditional squeaker.  Kitsune really likes the funny sounds it makes.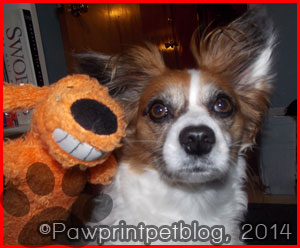 Loofa Dog: We've always called these traditional dog toys "long dogs", but apparently they are officially called Loofa Dogs.  Kitsune has gone through countless numbers of long dog toys since he was a puppy.  He loves them, but most of them we've gotten him haven't lasted all that long.  The one pictured is bigger than average, it's this 18'' Loofa Dog.  This seems to be a case of 'bigger is better', because Kitsune's giant long dog has lasted much longer than any of the smaller ones have.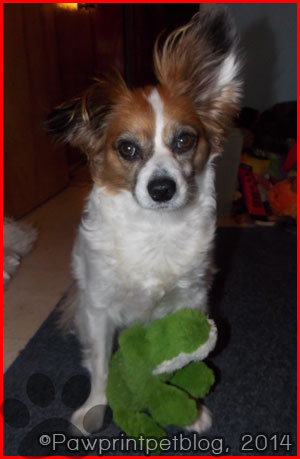 Kong Cozie Plush Toys:  I'm pretty sure I've mentioned many times before that Kitsune loves plush toys.  His Kong Cozie Alligator has been one of his favorite plush toys over the past year.  Kong Cozie makes other plush toys as well.  I think I'm going to have to get him a few others in the future.  Although we do get a kick out of watching Kitsune wrestle his alligator.  These toys have squeakers, of course, and are really really soft!  Not indestructible - our gator has had to go through a few minor repairs, but great for dogs who love plush toys and aren't overly destructive with them.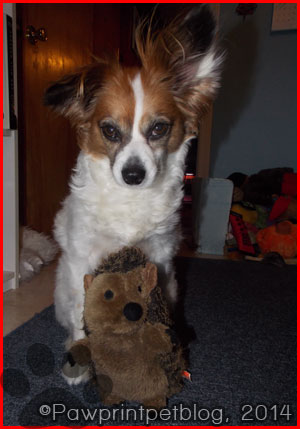 Porcupine Plush: What is it about dogs and porcupines?  I've talked to other dog owners whose dogs also really love these plush porcupine toys.  You can probably tell in the picture that Kitsune's porcupine is a bit disfigured now.  I've had to fix him quite a few times, but he's holding up well considering the abuse he's taken over the past couple of years.  I tried to find the exact porcupine that Kitsune has and couldn't, but I think this one looks like a good alternative.  That's probably the one I'll get to replace our current one, once the one we have now finally bites the dust.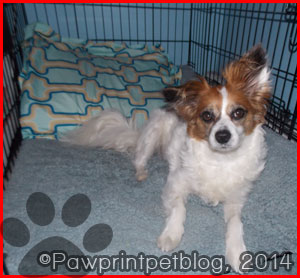 Orthopedic Pet Bed: After all the excitement of playing, every dog needs a nice soft bed to snuggle up on.  We allow Kitsune on our furniture, so more often than not he just likes to sleep on our bed, or the couch.  But he also has his own Soft Touch orthopedic pet bed.  His bed is awesome.  It's really really soft, and the cover comes off so it's easy to clean.  We put Kitsune's bed in his crate.  We never close him inside his crate now that he's older and better behaved, but he still likes to spend time in there sometimes.  Especially when I'm working, since his crate is right next to my desk.  Even if your dog is allowed on your furniture, I think it's also nice to give them a comfortable spot that's all their own.
There you have it, our 2014 dog gift picks!  What do you think of our list?  What are some of the things your pet has enjoyed the most over the last year? 
Remember that while pets may like things like new toys and treats, the best thing you can give them is your time!  Take your dog for a nice long walk, or play with them inside if the weather is bad.  An extra hour snuggled up with you on the couch can be just as special for a dog as getting a new toy!  Holidays should be about spending quality time with family after all - furry family members included!