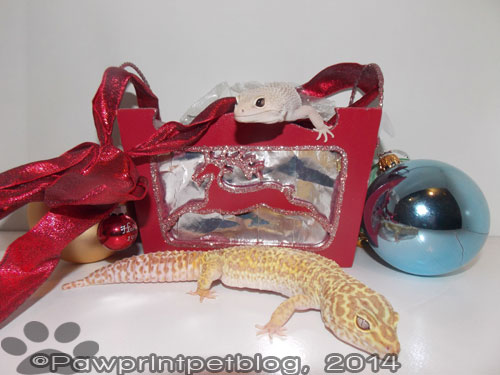 Last week I posted holiday photos of my rabbits, Barnaby and Poppet.  This week it's Aurora's and Miyuki's turn!  Anyone who's getting a Christmas card from me this year is totally seeing spoilers, since my card is just a print with holiday photos of all my pets.  My family members probably think I'm crazy.
It could be worse.  I **only** have 5 pets currently.  The other day I was thinking about what will happen when (hey I have to stay optimistic) I'm rich and have a huge house with lots of pets.  Can you imagine what my yearly Christmas cards will look like?  I'll have to make poster sized cards to fit photos of everyone!  Then my family will know I'm crazy!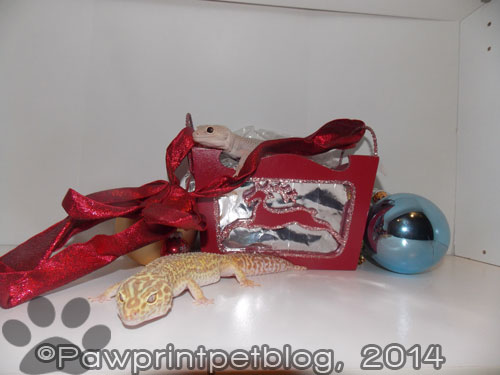 My gecko pictures don't feel quite the same without Haku.  But, thankfully, Aurora and Miyuki are both doing really well.  I got them each a coconut hide for their cages for Christmas.  I recently made some other changes to their cages, but I'm not going to get into that too much now since I'll be posting about it separately soon.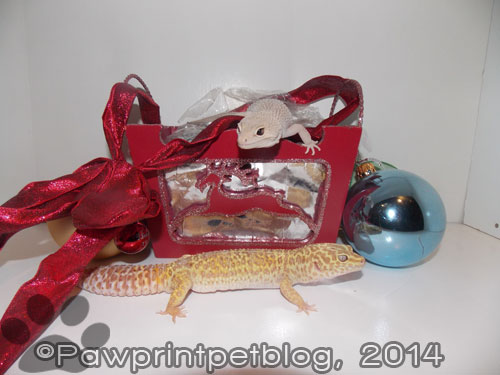 I got them some new moss for their humid hides too.  I didn't go overboard getting stuff for them, considering they already have everything they need, and it's not like they can actually open presents anyways.
Is everyone all ready for the holidays?  I still have to go shopping for my fiance, but other than that I guess I'm as ready as I'm going to be this year.  I hope everyone is having a fun December!