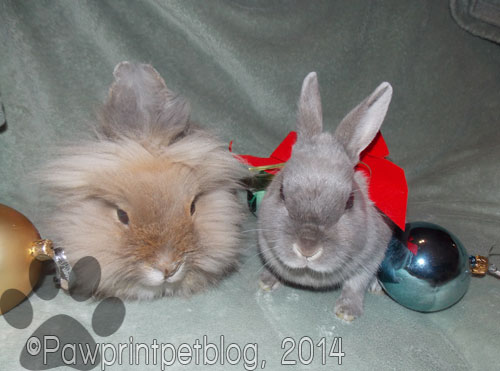 Happy 2015!  I hope everyone had a fun and safe New Year's Eve, and is having an amazing start to 2015 so far!  Since we had a pretty busy Christmas, we decided to have a nice quiet New Year's Eve, and just celebrated at home.  The gecko girls both got nice clean tanks, complete with the additions of their new hides that they got for Christmas.  I spent some extra time cleaning Barnaby and Poppet's room, and the bunnies and Kitsune each got an extra special dinner to celebrate the new year.  Not too exciting, but it was nice to be able to just relax at home.
Our pack had a pretty good 2014!  The year started off stressful for the humans, with my fiance being unemployed and me working at a job I really didn't like, but things ended on a much better note.  I, thankfully, was able to leave my stressful job for one that not only do I like much better, but that also pays better!  My fiance found an awesome new job as well!  We encountered a few blips in the road, like the rabid cat incident, but happily us humans got through the year fully intact!
Poppet, and because of Poppet, Barnaby, probably had the most to be thankful for in 2014.  In a short period of time our little Poppet went from living in horrible conditions, to death row at a shelter, to finding her forever family (us!).  She's been an amazing addition to our little family and despite only being with us for about 5 months so far, I couldn't imagine our lives without her.  She is literally the sweetest, friendliest rabbit I have ever had the pleasure of meeting - and that's saying a lot because I've met a lot of rabbits over the years!  Barnaby absolutely adores her, and seeing our senior boy so happy is amazing.
It's so weird to write about Barnaby being a senior.  Our fuzziest friend turned 8 in 2014, although you wouldn't know it by looking at him.  I call him my immortal bunny because he really hasn't changed much at all since the day we adopted him - when he was just 8 months old.  Despite living with us all that time he still doesn't really like people, but he is completely devoted to his Poppet.  Those two were meant for each other.  Poppet wants 24/7 attention and Barnaby is just the bunny to give it to her!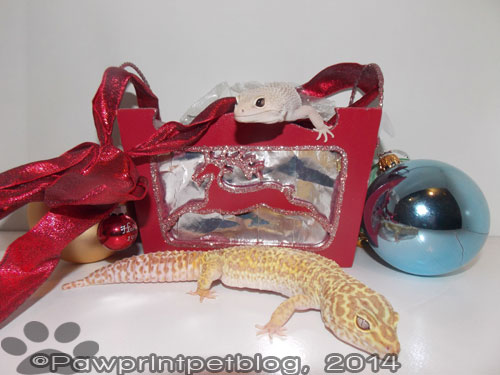 Aurora and Miyuki are both doing very well!  I'm actually planning on doing a separate post about them soon, because I've made a lot of changes to their tanks recently.  They both got a bunch of new hides for Christmas that I added to their tanks the other day, but I'll post more about that later.
Aurora is 6 years old now.  Miyuki celebrated her 3rd birthday in 2014.  Crazy that the little lizard who I got to watch hatch is already 3 years old!  She reminds me so much of her dad, Haku, who sadly passed away in September of 2014 due to kidney disease/failure.

Hopefully we get through 2015 without any major complications or losses.  For the past couple of years we've lost a pet a year (Ziggy the bunny in 2011, Berry the bunny in 2012, Nimaway the frog in 2013, then Haku in 2014), which is a trend I really really hope doesn't continue in 2015!
I'd like to think that Kitsune had a good 2014.  Nothing really major happened with him, but we spent as much time as possible playing with, walking, snuggling, etc, him.  He just turned 6, but still has as much energy as a puppy!  He's my almost constant companion, since I work from home, and I'm very thankful for his company and the joy he brings us.  I'm very much looking forward to the adventures we'll share in the new year!
I know this post is getting long now, but I also wanted to take the time to say thank you to all the Paw Print readers!  I've very much enjoyed interacting with those of you who have left messages here or on our social media pages.  I appreciate everyone who takes the time to stop by our website and I wish all of you the best for 2015!