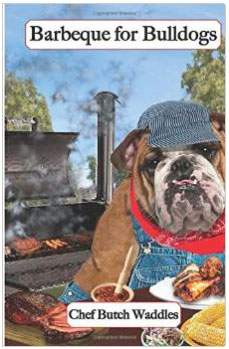 Remember back in October when we posted our review for Pastry for Poodles, the first book in a series of cookbooks written by dogs, for dogs?  Now fans of The Chow Network Book Series can rejoice, for their second book, Barbeque for Bulldogs, is now available on Amazon!
Like the recipes in Pastry for Poodles, the culinary creations featured in Barbeque for Bulldogs are more for entertainment than an actual cooking guide.  The recipes are written in the voice of Chef Butch Waddles.  With measurement units such as "paws", "scoops", and "swipes", temperature settings of "PRETTY HOT", and time measured in increments of walks, naps, and belly rubs, some guesstimation might be in order if you're going to actually attempt to create the recipes in the book.  I'm a vegetarian so, for obvious reasons, not really big on barbeque, but the images in the book definitely had Kitsune drooling!  And for those vegetarians among us, or anyone who doesn't want to attempt translating doggy units of measurements to human, have no fear - the book is sure to complete its main task – keeping dog lovers entertained!
What I love about these books is the personalities (pupsonalities?) of the dogs who penned them!  Although, in essence, quite similar to Pastry for Poodles, Chef Butch Waddles brings a distinct personality all his own to the table.  That, plus the different types of recipes featured, make Barbeque for Bulldogs a great companion book if you already have Pastry for Poodles, or an awesome stand alone book if you don't.
If you don't have Pastry for Poodles yet, you can also purchase it on Amazon.  And if you just can't get enough canine cuisine after cooking with Chef Fifi LeFay and Chef Butch Waddles, have no fear - there are 6 more books in the works, the next one being Spaghetti for Sheepdogs with Chef Mona.