Happy Friday!  How's everyone's 2015 going so far?  Ours is going pretty well - everything's pretty status quo so far.
Back before all the holidays I posted pictures of my gecko tanks (for I think the first time ever on this blog!?) and mentioned that I had some tank updates planned.  I don't usually get the geckos a lot of gifts for the holidays, considering that they really already have all the essentials, and it's not like they can actually open presents or anything.  But I had really been wanting to update their tanks for awhile, and used Christmas as an excuse to redo their tanks.  I think buying them new stuff was more of a gift for me than it was for them, but they both seem to be enjoying their new hides so it's okay.
Just in case you don't feel like going back to see what their tanks looked like before, I'll repost the pictures here...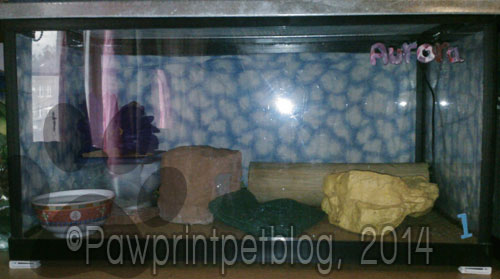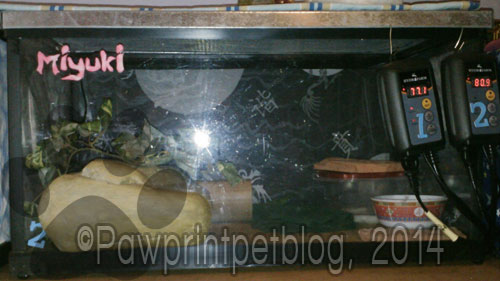 Just a quick note - Ignore the temp displays on the thermostats!  I know the tanks aren't at the correct temps.  Both times I took pictures I took them right after I cleaned the tanks.  When I want to clean them really well I unplug the under tank heaters so I can bring the tanks into the kitchen.  I took the pictures right after I had reset up the tanks, so the heaters were just plugged back in and heating up again.  Annnyways, here are the 'after' pictures I took today...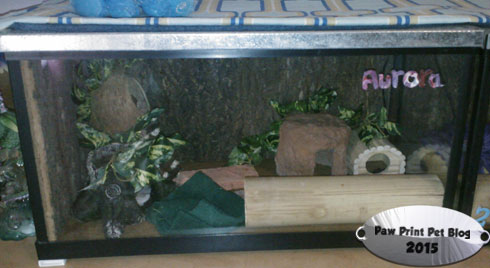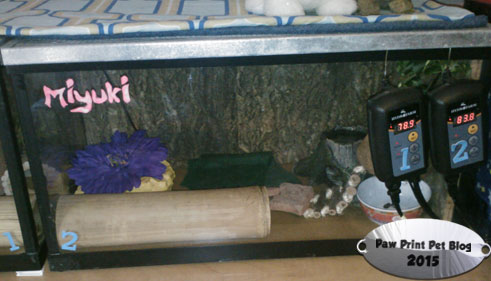 Can you tell I was going for a forest theme?  I still want to get a couple of new hides, especially for 'Yuki, and some more fake plants/vines.  I'll probably, eventually, change up the hides and such, but my favorite part of the change, by far, is the new backgrounds!  Before the tanks just had homemade fabric backgrounds.  I used to have the tanks in different spots, back before Haku passed away.  When he passed and I was down to just two tanks, I moved them next to each other, and the mismatched homemade backgrounds didn't look so great.  The backgrounds I have now are natural cork tiles by Zoo Med (they come in different sizes) that I attached to the tanks with Velcro.
I got these cute tree trunk hides to use as humid hides/water bowls, which look so much nicer than the homemade Tupperware humid hides I had before.  The coconut hides that I have hanging in each tank I think are actually made for birds, but my geckos like them.  Everything else in the tanks are things that we already had.  If anyone wants links to where they can get any of the other hides let me know!  The bigger brown dome looking one in Aurora's tank I handmade.
Let me know if you guys like these types of posts!  I know most of my blog views seem to be on my dog related posts, but I can't leave the gecko girls out completely.  I'll post updates when I change the tanks around again, or get anything new for them, but that probably won't be for awhile.
Thanks for reading!  I hope everyone has an awesome weekend!